Meeting with RESPIRA, Portuguese EFA Member
On November 15,EFA representatives travelled to Lisbon to meet with 14 members of EFA's member organisation RESPIRA, including recently appointed EFA Board Member Isabel Saraiva. RESPIRA is the national Portuguese Association of people with Chronic Obstructive Pulmonary Disease (COPD) and other Chronic Respiratory Diseases that is run by 10 volunteers. This young organization, founded in 2007, aims at providing support to Portuguese people with COPD and other chronic respiratory diseases.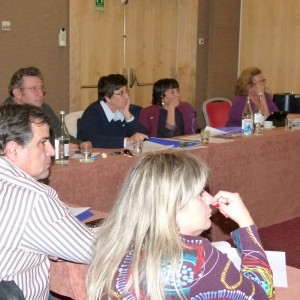 RESPIRA president, Luísa Branco started the meeting by welcoming the attendants. This was followed by a round of personal introductions where all participants informed EFA representatives of their personal experiences as patient and carers and their involvement in RESPIRA. Given the economic downturns in the current Portuguese environment, RESPIRA indicated an interest in enhancing their expertise to build partnerships. In that sense, the meeting addressed how to fundraise opportunities, how to better cooperate with other NGO's and how to inspire volunteers. EFA Corporate and Fundraising Manager Antje Fink-Wagner analysed the current structure of the organization and provided recommendations to RESPIRA on how to use all its potential. During the second half, participants discussed how to create opportunities for fundraising, such as potential partners, ways to engage in projects and sustainable corporate partnerships. The second session served the participants to note the association weaknesses and strengths which led the attendants to identify new objectives of interest to RESPIRA and its members. During the last part of the afternoon session EFA Project Manager Giuseppe De Carlo presented ways for RESPIRA to inspire and involve volunteers. The meeting was concluded with RESPIRA President Luísa Branco thanks to EFA for the analysis provided. EFA would like to thank all participants that took part in these past Capacity Building Meetings and will take all their comments and suggestions into account when taking further steps within the framework of the Capacity Building Project.