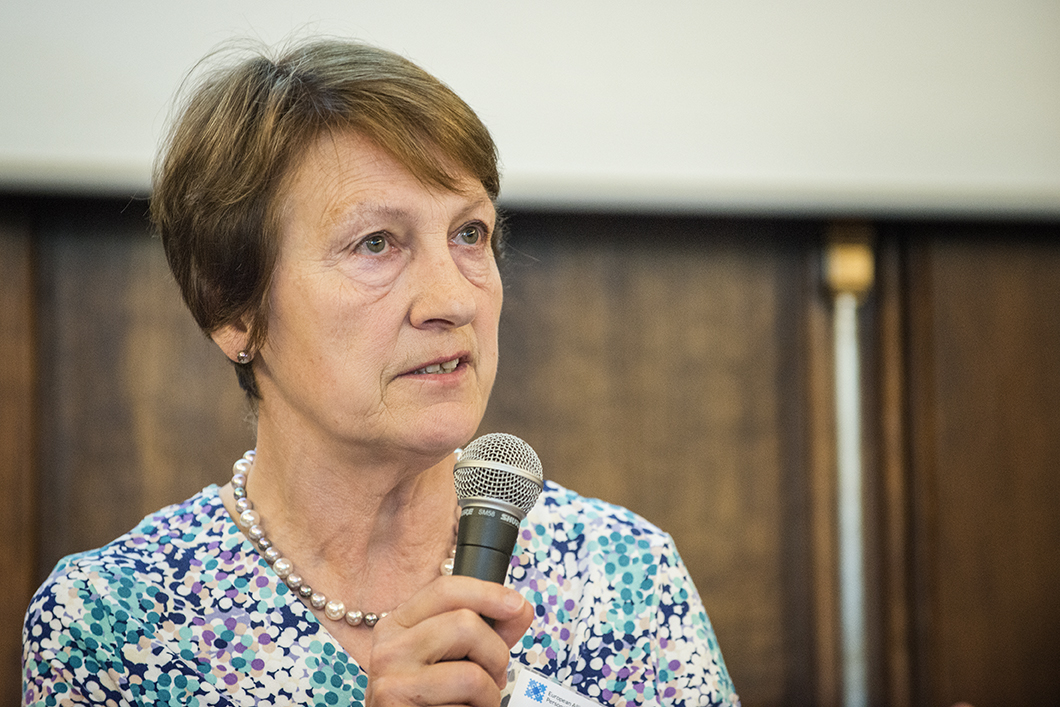 Urgent action is needed to ensure clean air for all. The time to act is now!
By Breda Flood, former EFA President and Asthma Society of Ireland Board Member, and Irish asthma patient.
The air we breathe is something we take for granted, but its quality is something that right now we have the opportunity to take far reaching action on. On 28th October the European Parliament Committee on Environment (ENVI) will vote on the National Emission Ceilings Directive (NECD), which sets the maximum air pollution levels within the EU for the next 15 years. This is a crucial piece of legislation that could save thousands of lives and protect people living with allergy, asthma and chronic obstructive pulmonary disease (COPD).
Like many other Europeans, and nearly half a million Irish people, I am living with asthma and am very sensitive to airborne allergens. Over the years I have learned about how to actively manage my condition. Yet, despite my best efforts I cannot avoid the air I breathe, even if it poses a significant risk to my health. That's why the upcoming vote on the NECD is so important to me. Improving air quality is something that we all have to work together on, and the time to act is now!
The health-related costs due to air pollution are significant:

Therefore voting for this legislation doesn't just make sense on a health level, but also on an economic level. Sounds like a good idea right?
Agriculture is currently the main source of ammonia and methane emissions in the EU. Methane and ammonia transform in the air to become ozone and particulate matter, pollutants which studies have shown to be harmful to human health. The current proposal will limit the amount of these emissions. Some agricultural groups say that the burden on farmers will be too great, and the costs too high. However, a recent report in the Lancet raises the point that the health damage and costs resulting from particles from agriculture is estimated to be far greater than any financial burden that will be placed on the sector by the current proposal.
Let's not forget that the farming sector in Europe gets more than 50 billion euros in subsidies annually. This is public money, our money, therefore we need to ensure they deliver clean air and don't contribute to making citizens sick.
I live on an organic farm, so I understand only too well the importance of agriculture to the Irish and European economies, and the economic struggles faced by the sector. Organic farming is a system of farming which avoids the use of soluble fertilizers, pesticides, growth regulators, feed additives and other chemicals. An example of the impact of biodiversity in Ireland is that where a conventional farm has about 12 species of birds, an organic farm can support up to 35 species. It is recognised as an innovative and sustainable approach that produces high-quality food, whilst contributing to the environment, climate change, animal welfare and rural development. Organic farming has a key role to play in the future of agriculture. Agriculture needs to be part of the solution. After all farming is one sector which strongly depends on healthy natural resources for its future. Farming practices that help fight against air pollution not only help reduce health costs but are also good for the environment overall and can deliver a lot of public good to citizens.
The air we breathe is directly impacting our health and should be cleaned up with ambitious legislation on pollution reduction and sufficient investment to make it possible. Don't throw away the opportunity to put citizens health first by watering down the legislation! This vote is a vital to the lives of children and adults with respiratory and other chronic health conditions, as well as to the lives of all those breathing our air. If introduced, we can work together to find cost effective solutions, while keeping our health as a priority

As a former President of EFA, and an active patient advocate, I am aware of all the work and campaigning that has enabled us to get to here. We have and will continue to encourage MEPs to think about health when making decisions about air pollution. We need our public representatives across Europe to stand up for clean air, and ensure that we don't miss out on an opportunity to take action that will affect the lives of future generations of Europeans.
Background
The National Emission Ceilings Directive is a legislation currently being reviewed as part of the Clean Air Policy Package proposed by the European Commission in December 2013. Theproposal tackles air pollutants and ensures that the national emission ceilings (NECs) set in the current NECD for 2010 onwards for sulphur dioxide (SO2), nitrogen oxides (NOx), non-methane volatile organic compounds (NMVOC) and ammonia (NH3) shall apply until 2020 and establishes new national emission reduction commitments applicable from 2020 and 2030 for SO2, NOx, NMVOC, NH3, fine particulate matter (PM2,5) and methane (CH4). The Committee on Environment, Public Health and Food Safety (ENVI) of the European Parliament has adopted its report in July 2015, making the reduction limits stricter, the targets for 2025 binding, and introducing mercury within the pollutants to be regulated. The plenary of the European Parliament will vote at the end of October, while the Council of the European Union will most likely reach a position by the end of the year.
Every year, over 400,000 Europeans die prematurely from the effects of air pollution, which is 10 times the number that die from road traffic accidents (2011 figures from latest EEA air quality report). In Ireland the number of premature deaths is 1,257 each year.
If the amendments proposed in the ENVI report to strengthen the NEC proposal were passed by Parliament and Council, 209,063 European lives would be saved in 2025 and 218,066 in 2030.
The standards for organic production within the EU are defined and enshrined in law by Council Regulation (EEC) No 2092/91 repealed by Council Regulation (EC) 834/2007.
Breda Flood
{jcomments on}