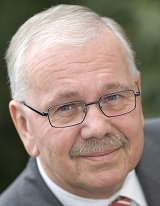 My COPD Adovacy in October
By Michael Wilken, COPD Advocate
This October was an interesting month and one which brought with it the opportunity for me to engage in a number of COPD activities, and to help raise awareness of this chronic condition and share the patient perspective.
Representing EFA, I had the opportunity to participate in the 2nd COPD Global Patient Leader Summit in Paris, from 28-30 October.
Building on last year's summit in Madrid, Spain, this year's meeting welcomed patient representatives from additional countries. The 26 participants of this meeting came from across the globe, representing countries such as New Zealand, Australia, Japan, China, Singapore, Vietnam, Egypt, Lebanon, Czech Republic, Germany, Belgium, UK, Ireland and USA.
COPD Foundation president and co-founder, John W. Walsh, discussed the increasing role of innovative technology in the Foundation's research and community-building initiatives, such as the COPD Patient-Powered Research Network, COPD Crowdshaped, and COPD360social. Mr. Walsh stressed the importance of digital tools for patient advocacy and care-delivery, and described the benefits of such technologies for increased global collaboration.
Presentations and discussions covered a range of topics, including:
• Genetic COPD (Alpha-1)
• COPD in rural and in urban environments
• A new "Patient Powered Research Network"
• Online community management
• History of the Czech Lung Patients Organisation
• Pulmonary Rehabilitation
• Regional conferences (Latin America, Asian Regional Summit and the European Patient Representation in Birmingham next June)
• How to influence government policy and advocate for better diagnosis and treatment in Vietnam
At the end of the conference the president John W. Walsh asked for participants willing to engage in the steering committee of the COPD Foundation. I agreed to do so, along with Dr. Stanislav Kos, a retired pneumologist and now patient advocate from the Czech Republic.
You can find out more about the event at the website www.copdfoundation.org.
During the ERS Congress in Amsterdam I was invited to give a short summery of our COPD studies during an event of the Longcenter Netherlands. You find my slides here.
In early October I found out that "Genome Medicines" published in September a summary of a workshop which took place before the ERS-Congress last year in Munich. The theme was "Translating System Medicine into Practice, the example of COPD and Lung Cancer". In a round-table I demonstrated the EFA-Position concerning proposals to change/modify the care system. You will find the publication here. This was a very exciting development, as it's my first publication in a medical-scientific newspaper for 27 years. I worked in the Medical School of Hannover from '74 to '88.
So October was a busy month, but a fruitful one with many developments and opportunities to continue to advocate for all those living with COPD and to raise awareness of what is often an overlooked condition.
Michael Wilken
{jcomments on}