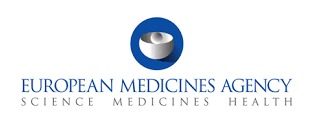 Our Experience of EMA Patient and Consumer Training
By Inga Zalnerausine and Dominique Hamerlijnck, EFA Patient Representatives
Inga Zalnerausine and Dominique Hamerlijnck attended the EMA patient and consumer training on November 25th as representatives of EFA. There were about 40 representatives at the training, from approximately 24 patient and consumer organisations.
It was an intensive day, as well as a very interesting one.
EMA organised this meeting to help prepare us in our role as a patient or consumer representative in EMA meetings. The session was directed towards Scientific advice, the Scientific advisory group of CHMP (Committee of Medicinal product for Human Use), PRAC (Pharmacovigilance Risk Assessment) written consultation and EPAR (European Public Assessment) and safety communications on medicine.
The training did not just consist of us listening to presentations. We received examples of the types of information we would receive for different types of advice. We were asked to read and think about how we would comment on the issues addressed in the papers, as if we were asked by EMA to participate in a meeting.
The group was divided into 3 breakout groups. Each of these groups discussed their reactions and advise on the papers we had been given. There was a lot of discussion in the breakout groups. Not only about the content of the information but also about our role as patient or consumer representatives. We ended up with a compilation of both advise on our role as patients and answers to the questions asked in the documents. It was very interesting because of the different experiences and points of view from the participants.
The sessions were chaired by different EMA representatives who were involved in the different areas addressed in the papers. It was interesting to see that the learning went both ways.
What we learned is that you have to read the documents really carefully. Small differences in wording are important. One example is: "added to existing standard of care" which means that in the study designed by the company the patient remains on their own medication while participating in the trial. This is important information when thinking about the design of a study, the effect on the participants and the relevance of the results.
Most of the questions in the documents are formulated by the pharmaceutical company. It is important to translate them to what you as a patient representative feel is important and how you can answer the questions from this perspective.
We were given an overview of the activities of EMA and the patient participation in the different subjects: from pre-submission to post authorisation, the different working parties and the public EMA documents. Most of us got a bit confused by all the acronyms used by EMA!
The day helped us to understand the different aspects of what EMA does and gave us insight into how we, as patient and consumer representatives, can prepare for meetings and increase our effectiveness. It was very fruitful and an interesting learning experience.
Inga Zalnerausine and Dominique Hamerlijnck
{jcomments on}