At the present time 10% of the adults in Europe are diagnosed with COPD. 3.5 million people need supplemental oxygen, and the numbers keep growing. Many patients are advised by their physician to travel to places with temperate climates during wintertime, as it may ease their symptoms. However, travelling by air for this group of passengers can be challenging.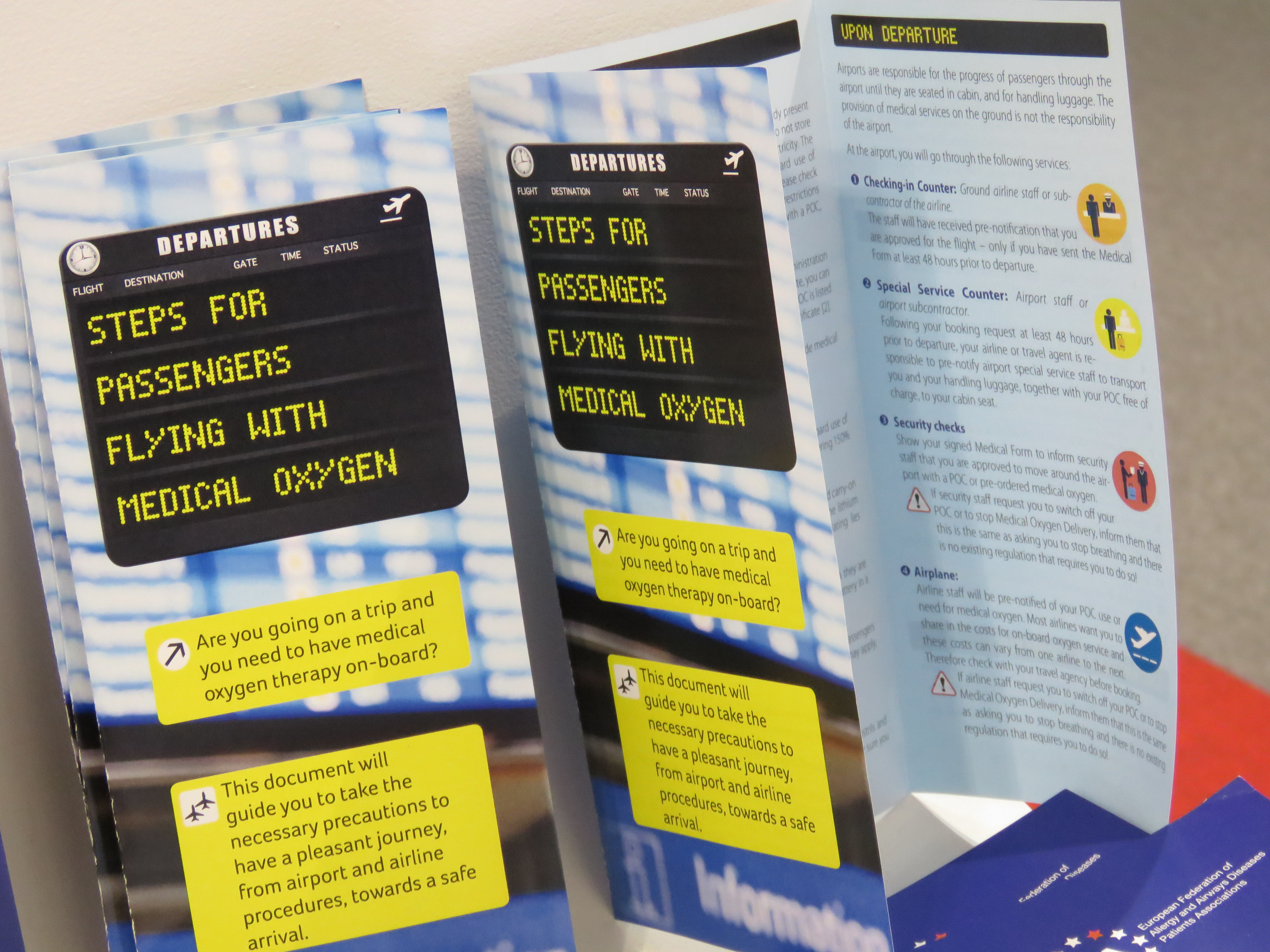 At the ERS Congress last month EFA published the leaflet "steps for passengers flying with medical oxygen". This helpful flyer details all the steps that oxygen-dependent passengers need to take from their departure to arrival, ensuring that they can enjoy a smooth journey to their destination of choice.
For this year's World COPD Day, EFA will kick off its "Oxygen Ask" communication campaign with an update of our booklet "Enabling air travel with oxygen in Europe". This booklet will include
updated information on airline policies,
a lay interpretation of the applicable rules, resolutions and regulation governing travel with supplementary oxygen,
as well as practical guidance for oxygen-dependent passengers on how to prepare for their journey.
In this booklet, we documented the barriers that patients face when flying with medical oxygen and highlight the limitations in terms of information and medical service provision and EU legislation. We also showcase the challenges presented for patients when dealing with a large variety of policies and procedures, which are often inconsistent and confusing. By publishing this booklet, and the issues it highlights, we hope to foster policy change based on best practices that will modify today's practice within airlines and airports for passengers travelling with oxygen in Europe. Many of us take for granted the freedom to travel by air, but for some citizens barriers are still in place which inhibit their freedom of movement. This should not be the case. While some improvements have been made there is still room for more to be done to help patients in need of supplementary oxygen to travel in safety.
If you have experienced issues when travelling with supplementary oxygen, and would like to get involved or share your story contact EFA Project Officer Joke de Vocht (This email address is being protected from spambots. You need JavaScript enabled to view it.).
It's not too late to be diagnosed and treated
For the past year, EFA and its members in Belgium, France, Ireland and Spain have been working on the organisation of stakeholder meetings to advocate at national level for harmonisation of:
Early diagnosis, through the inclusion of spirometry in regular health checks
Multidisciplinary approach among healthcare professionals
Free of charge rehabilitation programmes (including smoking cessation programmes)
On World COPD Day, EFA will issue a press release regarding the organisation of the different meetings on the harmonisation of COPD care for COPD patients in the different Member States.
For more updates on this campaign visit our website and our social media channels were we will be posting these publications and our communication messages.