Over 400,000 people die prematurely each year because of air pollution, and the European Commission estimates that the health-related costs in the EU range from 390 to 940 billion euros per year.
As part of the Clean Air Policy Package, and with the aim of improving air quality, the European Parliament voted on the proposed National Emissions Ceilings (NEC) Directive on 28th October. This piece of legislation will set maximum binding air pollution levels within the European Union for the next 15 years.
In advance of the vote stakeholders have been divided over the level of ambition of the proposed ceilings. In order to ensure that MEP's voted in favour of a directive that will keep our air clean EFA has been actively campaigning in the run up to this vote, and we are part of an alliance of health and environmental organisations active on this issue.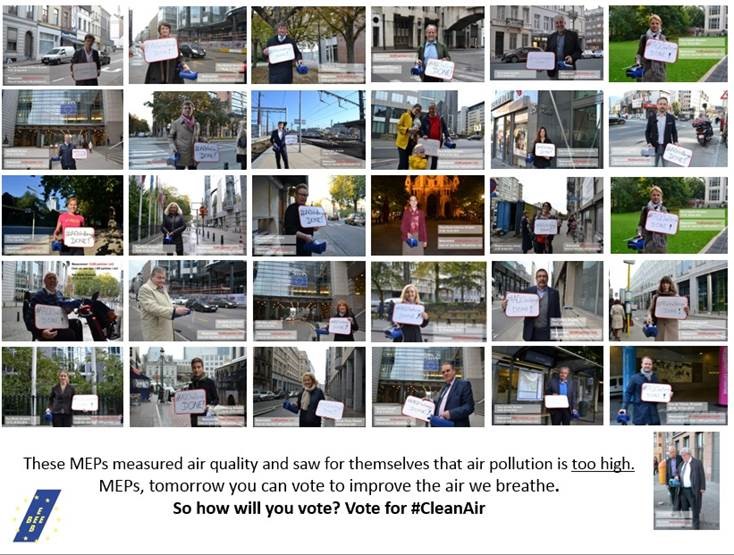 EFA participated in a social media thunderclap on 21st October, organised by the Health and Environmental Alliance (HEAL). Using social media, and twitter in particular to reach out to MEP's who are active on the channel. MEP's from all over Europe were pictured testing the air in their city, and sharing the often surprising results, then nominating a colleague to do the same in their city. This airquality challenge highlighted in a social and engaging way the reality of air quality in European cities.
Two days before the vote a joint open letter was sent to MEP's asking them to support a vote for clean air and outlining the case supporting such a vote. A copy of the letter is available here http://www.efanet.org/resources/library/2809-open-letter-to-meps-call-for-clean-air
Many of our member organisations were also active in campaigning for the vote, contacting national MEP's, supporting social media activity and calls for action and raising awareness of the importance of clean air for the patients they represent. This national advocacy and campaign activity was instrumental in achieving the final result.
In a welcome result MEP's voted to support a series of reduction commitments from 2020 to 2030, on a range of health damaging pollutants including methane and ammonia.
Given the strong pressure from the farming sector urging for the exclusion of agricultural emissions and watering down of overall targets, EFA published a blog from Irish asthma patient and former EFA president Breda Flood. Breda outlined the importance of the vote for her and why, as someone who lives on a farm, she feels more can be done by the agricultural industry to help keep our air clean. You can read Breda's blog in full here http://www.efanet.org/patients-corner/blog/62-breda-flood/2811-when-is-the-time-for-clean-air-the-time-is-now
However by not adopting the more ambitious plan put forward by the Parliament's Environment Committee in July they missed an opportunity to save an additional 42,800 lives each year, from 2025 onwards.
EFA welcomes the vote in support of setting a binding target for 2025, as the first step towards meaningful legislation on air pollution. The vote will result in a positive move towards action on air quality. It will impact not just on those with allergy, asthma, and COPD, but on all European citizens.
Thank you once again for all your great support on campaigning and advocating for cleaner air in Europe!
The results in summary
MEP's voted:
To include ammonia and methane, two pollutants largely emitted from agriculture. Although MEPs voted to exempt enteric methane (emitted from ruminant animals' belches).
For binding interim targets for 2025 as a way to ensure EU countries are on track to meet the 2030 goals.
For 2030 targets in line with Commission's original proposal (the Environment Committee had called for more ambitious 2030 targets).
To exclude mercury, which comes largely from coal-powered plants. (This had been added to the Commission proposal by MEPs in the Environment Committee – the European Parliament has now called on the Commission to do an impact assessment before if necessary coming up with a new proposal to reduce mercury emissions).
Following the results of the plenary debate and the vote we issued a press release which can be found here. http://bit.ly/1GxaiAl
The adopted Directive text in full is available here http://www.europarl.europa.eu/sides/getDoc.do?pubRef=-//EP//NONSGML+TA+P8-TA-2015-0381+0+DOC+PDF+V0//EN
More information on the Clean Air Policy Package can be found here http://ec.europa.eu/environment/air/clean_air_policy.htm