Wednesday 18th November marked the fourteenth World COPD Day, an annual event to raise awareness of COPD worldwide.
For this year's campaign EFA chose to highlight the meaningful actions that society can take to improve conditions for those living with this chronic disease.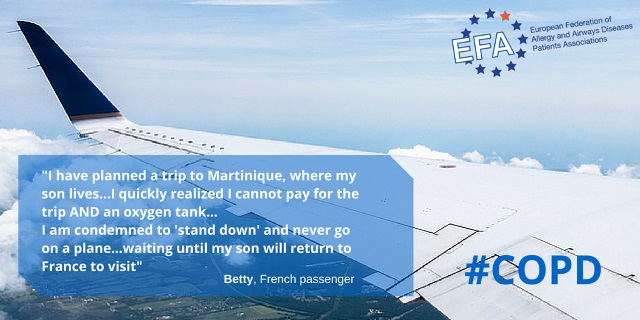 Most of us take for granted the freedom to travel by air but citizens with COPD still face barriers which inhibit their freedom of movement. EFA strongly believes that this should not be the case. As part of our campaign activity on the day we called on policymakers, airlines, and other stakeholders to take the steps recommended to remove these barriers.
We launched an update of our popular booklet 'Enabling Air Travel with Oxygen in Europe'. This publication documents the barriers that patients face when flying with medical oxygen and highlights the limitations in terms of information and medical service provision and EU legislation. We share the experiences of patients, documenting the challenges they encounter when dealing with often inconsistent and confusing policies and procedures, as well as outlining best practices which we hope will adopted by the stakeholders.
The publication serves as a resource to help patients to navigate these obstacles, and support them on their journey.
By raising awareness of these issues we hope to bring about change in the practices of airlines and airports
As part of our release we also highlighted our ongoing activity in the area of COPD. EFA and our members in Belgium, France, Ireland and Spain have been working on the organisation of stakeholder meetings to advocate at national level for harmonisation of COPD care in member states.
These are issues which we will continue to campaign on. As always we would love to hear your stories. You can email us at This email address is being protected from spambots. You need JavaScript enabled to view it.