The discovery of IgE antibody (immunoglobulin E) 50 years ago by Gunnar Johansson and Hans Bennich in Uppsala, Sweden, revolutionised our understanding of allergy and allergic asthma. Most of today's diagnosis and treatments are based on these findings. Mikaela Odemyr, EFA President and Vice President of the Swedish Asthma and Allergy, spoke at the anniversary bringing the patients perspective.
The international scientific meeting, organized by the Swedish Association for Allergology, was an opportunity to look towards the future of asthma research and the promise of further evolving technologies for the disease.
The discovery and identification of IgE antibody has allowed a better diagnosis, research, treatment and relieving the symptoms of allergy and asthma. Johansson, one the speakers during the conference, talked about the history and epidemiology of IgE. After his speech he was given a IgE in silver pin made just for this occasion. Topics such as latest research and discoveries on the development of allergy, diagnosis and treatments were also brought to the table.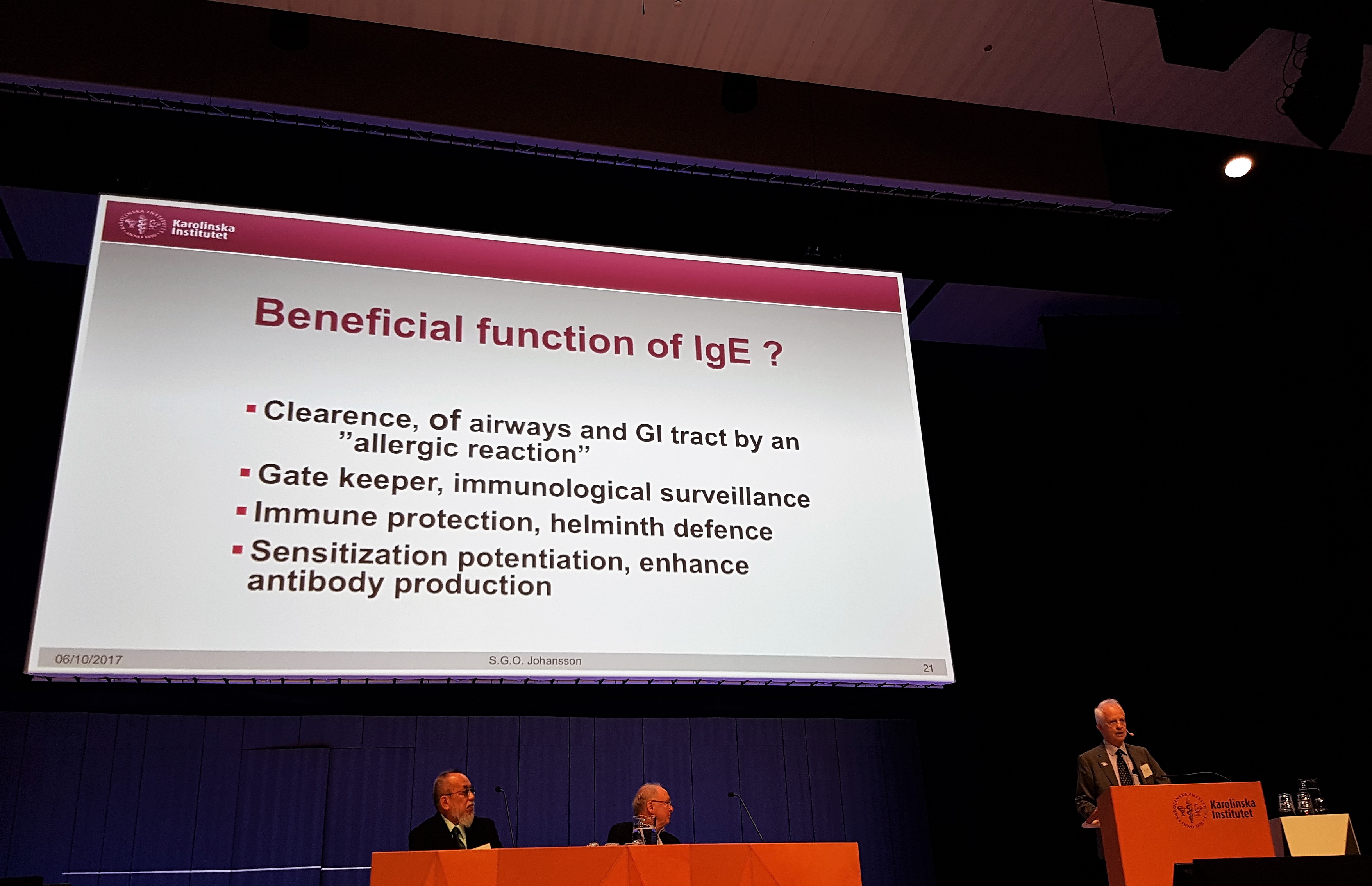 Gunnar Johansson during his speech
Mikaela brought the human approach by calling on scientists not to forget patients. "Prevention is a daily concern for patients", so she asked researchers for a "definitive cure for allergy". She also addressed the importance of effective treatment and patient centred-care. Finally, despite in some countries allergy awareness has advanced a lot, allergy is "still not a priority in Europe", she pointed out. Allergy awareness must be raised.
Mikaela, through a video made by his son, which is an asthma patient; showed that "if patients receive the right care and treatment, everything is possible".
Learn more about the repercussion of the IgE discovery: https://www.ncbi.nlm.nih.gov/pmc/articles/PMC5332128/