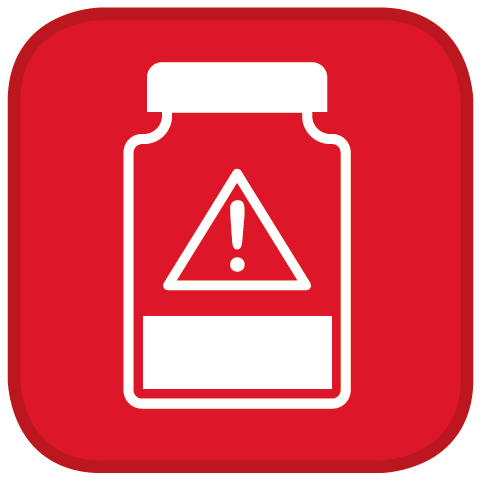 Industrialisation has resulted in products that are more constant, safer and have better quality. Sales in chemicals have increased by 24 times over the past 40 years. However, the widespread use of chemicals in order to preserve products for a longer period of time has the potential to result in counterproductive consequences for our health.
How are chemicals regulated?
All products commercialised in the European Union need to be authorised by competent bodies. In many cases, their composition are directly monitored and assessed by EU agencies i.e. the European Food Safety Authority, the European Medicines Agency or the European Chemicals Agency. The role of these bodies is to help the European Union adopt and implement new policies to warrant the safety and quality of the products, by providing scientific and technical support. They also work to foster national cooperation on these issues, especially under the EU Single Market framework.
The EU has modernised the European chemicals legislation and established regulatory framework for the management of chemicals. An integrated system for the registration, evaluation, authorisation and restriction of chemicals (REACH) together with a European Chemicals Agency. REACH requires firms that manufacture and import chemicals to evaluate the risks resulting from the use of those chemicals to take the necessary steps to manage any identified risk. The industry needs to prove that the chemicals produced and placed on the market are safe.
How are we exposed to chemicals ?
The reality being that we are constantly exposed to chemicals. There are chemicals in the cookies we eat, in the shampoo we use, in the cosmetics we use, and in the clothes we wear. Most of them do not harm the majority of the population, but they provoke severe reactions on vulnerable people such as those with sensitive skin, particularly children, elderly, or for those with respiratory diseases.
We use the products on most cases to make us look good, to clean our houses, but the unintentional effect in some people may decrease our quality of life, loss of productivity and worsen health outcomes. Hazardous chemicals are one of the biggest environmental threats to citizens. People with allergy, asthma and COPD, breathing the air polluted by chemicals (respiratory sensitisers) may worsen their symptoms and/or lead to disease developing.
There is increasing concern on our aggregated exposure to chemicals, known as the "cocktail effect". The cocktail effect is combination of several chemicals having effects that cannot be predicted altogether from their behaviour on their own. In addition, evidence shows that chemicals toxicity needs to be studied over the long-term.
In collaboration with our partner organisation Health and Environment Alliance (HEAL) and other interested stakeholders, at EFA we channel patient concerns at EU level and we call for:
the minimisation of chemical exposure and the encouragement of non-chemical alternatives through a stricter application of the REACH regulation;
a revision on cosmetic regulatiosn and other EU legislative texts (e.g. pesticides, paint, cleaning products) to ban or limit the use of dangerous chemicals present in everyday products;
the development of an EU strategy in indoor air quality that encompasses the chemicals present in the air we breathe inside.
Our advocacy activities on chemicals are in coordination with the Health and Environment Alliance (HEAL), an EU umbrella organisation of which we are full members.
What are the types of chemicals that can harm us?
Today, more than 80,000 chemicals have never been fully assessed on their impact to our health and the environment. Here are some of them:
Pesticides–are a class of biocide. They cover a wide range of products such as mosquito sprays, insect repellents and even anti-microbial sanitizers. The link between chemicals and pesticide in cancer has been proved numerous times.
Phthalates and PVC (Polyvinyl Chloride)–are cheap and easy to use materials. They are often used as construction materials which can be found in plastic products. When PVC is burned, it releases dioxin – one of the most toxic substances known. You can often find this substance in your blinds, flooring, PVC vinyl shower curtains, baby toys, cosmetics and most of the plastic products you have at home. Plastic food containers and water bottles can leakphthalatesinto your food and water, which causes endocrine system damage and is especially harmful to children and pregnant women.
Parabens–are used as a preservative in cosmetics and other pharmaceutical products. They are also used as food additives. Check the ingredients of your cosmetic and skin care products and you will find "paraben" somewhere there.
Bisphenol A or BPA–is a chemical found in hard plastics and in the coatings of food and drink cans. They are found in majority of the everyday products we use – baby bottles, water bottles, even dental fillings, household electronics and many more. BPA is an endocrine disruptor and can interfere in the behavior of hormones in our body.
Ammonia –have been used in households for decades. They are used in cleaning products and which remove most tarnishes and mildew, hence its popularity. Direct exposure to ammonia can irritate the eyes and lungs. When there is direct contact with the skin, can cause burns or rashes.
EFA's documents and activities in chemicals