Patients took the floor in national televisions in January. Allergy UK closely worked with BBC to feature the anxiety of parents of little allergic children and Bulgarian ABBA shown the patients discomfort with the Government plans on reimbursement reduction for COPD treatments.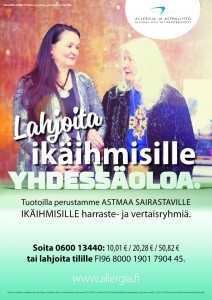 The Finnish Allergy and Asthma Association launches a fundraising campaign
Elderly people living with asthma are at the heart of the latest fundraising campaign of EFA Member Finnish Allergy and Asthma Association. The funds collected will be used to finance hobbies, exercise and sport times as well as peer groups for asthmatic seniors. The famous Finnish artist Outi Heiskanen (77) who is asthmatic, supports the cause and is the public image of the campaign.
Allergic children and their parents explain their disease in the BBC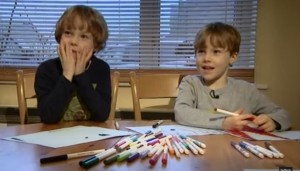 EFA Member Allergy UK recently worked with BBC's Inside Out to raise the profile of allergies among the general public through a TV clip. They featured case studies, spokespeople and health care professionals who together, provided a great insight into how distressing it can is to live with allergies every day. Allergy UK continues to raise awareness of allergy through a range of media exposure, you can find lots more case study led pieces on Allergy UK's YouTube channel. To stay up to date with what Allergy UK is doing, like them on Facebook or follow them on Twitter.
Bulgarian patients mobilized against lower COPD reimbursement rates

Diana Hadzhiangelova from ABBA during and interview with Bulgarian national TV.[/caption] The Bulgarian Ministry of Health is preparing a new reimbursement policy in Bulgaria that will severely affect COPD patients, who will have to pay 25% of the drug for primary care treatment if adopted. EFA Member the Association of Bulgarians with Bronchial Asthma, Allergy and COPD (ABBA) quickly reacted to this initiative on the national television БТВ. In this sense, ABBA is organising a round table in February 2015 in partnership with the Health Parliamentary Committee that will touch upon "Three priority areas and fourteen actions aimed at improving the health and quality of life of people with asthma, allergies and chronic obstructive pulmonary disease".
Finnish Allergy Programme: costs of allergy and asthma are high but decreasing
New data showing the advancement of the Finnish Allergy Programme are starting to be published. The costs for asthma and allergy in Finland are high but decreasing: from 2000, up to 2011, costs had decreased 9%. The goal is to decrease cost by 20% by 2018. These are the interim findings of the study co-authored by Dr. Juha Jantunen from the Finnish Allergy and Asthma Federation and led by Professor Tari Haatela, that was published in the Finnish Medical Journal. The study is based on the national statistics from different official sources and the responses of over 1,000 allergic people to a questionnaire on non-registered data, such as absence from work due to allergy. The results are summarized in English at the end of the paper.