We are delighted to share with you our new report to harmonise prevention, care and rehabilitation for COPD patients across Europe! The report focused on healthcare systems and policies in 19 Europe and will serve as an advocacy tool for policy change for COPD at national level. In March, we also met with airport representatives to reduce obstacles for COPD patients under oxygen treatment deciding to travel by plane.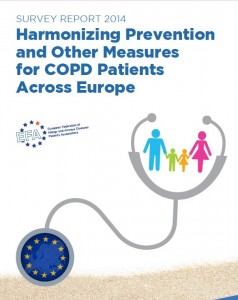 New EFA Report: "Harmonizing Prevention and Other Measures for COPD Patients across Europe"
Our new report "Harmonizing Prevention and Other Measures for COPD Patients across Europe" explores prevention, care and rehabilitation policies for COPD in 19 European countries. The report is the results of a survey done in the summer of 2014 by COPD specialists and patients in each of the countries studied. The results of the survey will serve COPD national associations and patients to better understand how the health system works in their country and what needs to be done to achieve a European harmonization of the minimum standards of care as identified by EFA's COPD Working Group. EFA is currently requesting its members, actively working in the field of COPD, to discuss reimbursement policies for COPD treatment with the national (or regional) payers' organisations. The European Respiratory Society (ERS) and the International Primary Care Respiratory Group (IPCRG) have agreed to join EFA members during these meetings.
Meeting with airports to ease patients' carrying oxygen access to their plane
On 4 March, EFA met with Airport Council International (ACI) representatives at their office in Brussels to follow-up with what had been discussed during the General Stakeholder Meeting we organised in October 2014. We presented them with our Oxygen Harmonization Project and our achievements to enable air travelling for COPD patients needing medical oxygen. ACI informed us on the European airports' rights and obligations under EU regulation and detailed us on the current situation at European Airports. Both organisations, we agreed that this issue needs attention and we will take the following actions to address it:
We will prepare an informative sheet on passenger "duties and rights" that will display simple and clear guidelines for passengers that require medical oxygen when travelling.
We will inform ACI of airports about the places where passengers face 'bottlenecks' or 'difficulties' related to the transport and use of their oxygen at the airport. Those airports will be contacted by ACI to move towards a harmonization of transport and use of On-Board Oxygen.