COPD patients still cannot rely on a common European approach on prevention and healthcare measures. This is the result of a survey conducted by EFA in 19 countries in Europe, which was presented on Sunday 27th of September at the ERS Congress in Amsterdam.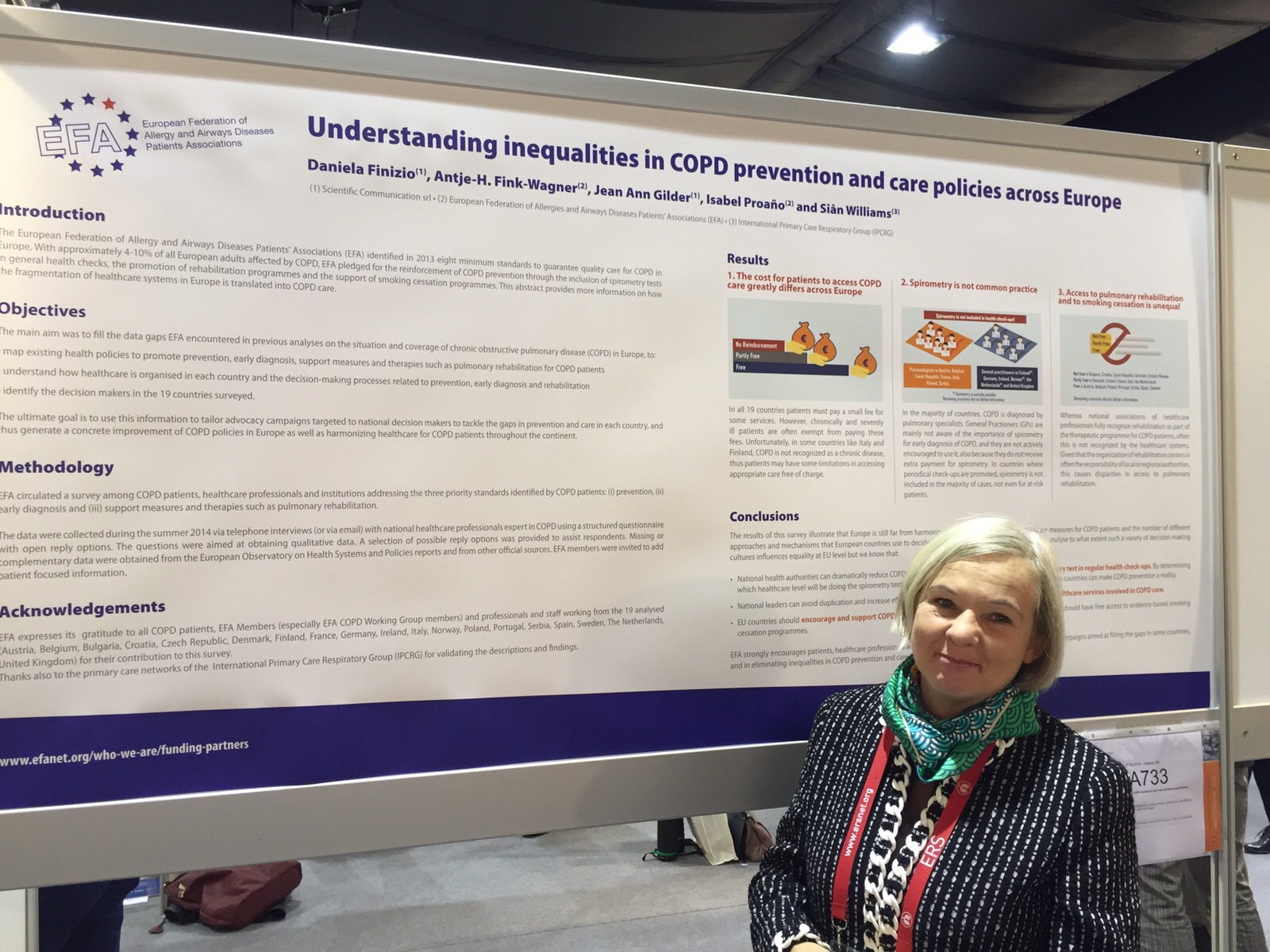 EFA Corporate Relations and Fundraising Manager, Antje-Henriette Fink-Wagner, during the poster session "Best abstracts in COPD management", highlighted three main aspects in COPD care were there is still a lack of harmonization in Europe, namely access to care, prevention, rehabilitation.
In all surveyed countries access to care is subject to the payment of a small fee, with ordinary exemptions for severely ill patients. However, in countries were COPD is not recognized as a chronic disease, like Italy and Finland, patients may have limitations in accessing free care.
In terms of prevention and early diagnosis, it has to be noted that in most of the cases spirometry tests are not included in regular check-ups. Moreover, in the majority of countries, COPD is diagnosed by pneumologists rather then by general practitioners.
Access to pulmonary rehabilitation and smoking cessation services is also quite unuequal across Europe. This is mainly due to the fact that these services are under the responsibility of local and regional authorities.
The results of the survey were presented together with all activities implemented by EFA within its COPD project, on Monday the 29th at the ERS World Village. EFA Project Manager Giuseppe De Carlo also presented for the first time the leaflet "Steps for passengers flying with medical oxygen". This leaflet will serve to guide passengers who require oxygen when travelling to take all precautions for avoiding troubles during the journey, from the booking process to the airport and airlines procedures, towards the arrival at the airport of destination.
The leaflet can be downloaded here and will be soon translated into several languages.