Adolescent patients with asthma encounter difficulties in following their medication but the reasons are unclear; HEY YA! HEalth Literacy, Young Patients with Asthma and Adherence to treatment: EFA Report and European Recommendations is a new EFA publication based on the results of a survey from 2015 that looked at the health status, asthma severity, attitude, treatment scheme, role of physicians and carers and health literacy of adolescents between 12-17 from four European countries - France, Germany, Spain and United Kingdom.
Results are somewhat surprising: health literacy doesn't have a direct effect on adherence but rather influences the adolescents' attitude, which, together with the daily impact of the disease, is the factor that can largely explain the variety of adherence. More specifically, forgetfulness and rebellion against doctors' advice have the largest impact on adherence to asthma treatment (24% and 22% respectively). In some cases adolescents do not take their medicines when they feel better or just because they don't take their asthma seriously or ignore the negative consequences they will face. Encouragement from other people, especially from doctors, also has an important impact on adherence to treatment (11%). At the same time young people with asthma trust their doctors, and state that they do not have a problem in confronting their asthma.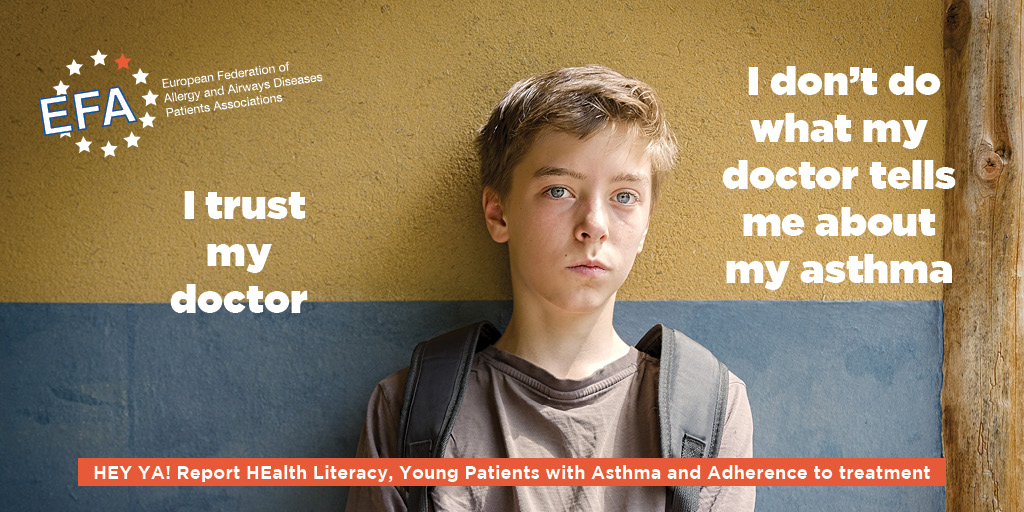 EFA Report HEY YA! HEalth Literacy, Young Patients with Asthma and Adherence to treatment provides adolescents, healthcare professionals and parents with suggestions for tackling the above mentioned aspects and identifies four policy recommendations to improve the health of young patients, such as:
promoting multidisciplinary care coordination

developing tailored health information technologies, developed with young patients themselves to support self-management

empowering young patients and

conducting additional research to picture the long-term consequences associated with poor adherence.
These findings were presented in a public event held at the European Parliament, kindly hosted by MEPs Borelli and Pietikäinen, in Brussels on April the 28th. A panel composed of young people with patients and parents, pediatricians, EU policy makers and patients' organisations engaged with the rest of the audience in a rich discussion around the doctors-adolescents-parents relationship, the need to listen and respect the opinion of young patients, the reasons behind adherence and what can be done.
All participants identified eHealth as a great opportunity to curve down non-adherence in asthma. However, although everyone recognised the utility of mHealth in asthma self-management, there is a need for a regulatory framework that sets out standards and requirements and patients' organisations can have the key to sort it out and most importantly, participation of patients in developing self-management tools.
Sincere thanks to our hosting MEPs for their high level support!
The HEY YA report is available in English.
The Press Release is available here.
To know more about our asthma adolescents project, please visit our dedicated page.