COPD Project Update
EFA has included future actions for the 2013 Oxygen Harmonisation Project within its 2014 COPD Project. As a result, this project update presents developments and progress on all actions concerning the COPD Project this year.
EFA to Present Conclusions of Oxygen Harmonisation Project at ERS Congress 2014
EFA's Fundraising and Project Manager, Dr. Antje-H. Fink-Wagner, will present the findings of our 2013 publication 'Enabling Air Travel with Oxygen in Europe: A Booklet for Patients with Chronic Respiratory Disease' at the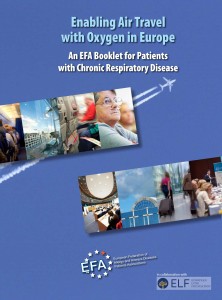 2014 ERS Congress in Munich, Germany.
The submitted abstract "Enabling air travel with oxygen in Europe" was accepted for the Poster Discussion "Management of COPD in Primary Care" which takes place on Sunday September 7th from 14h45 to 16h45. It serves as an opportunity to inform healthcare professionals and experts in respiratory diseases about discriminatory practices of certain commercial airlines against patients. EFA's Oxygen Harmonisation Project identified patients with chronic respiratory diseases who require the use of oxygen therapy when traveling as victims of discriminatory practices by many major European airlines. Together with the European Lung Foundation, personal testimonies from patients were collected and an investigation of airline policies revealed differing formats of Medical Information for Fitness to Travel forms (MEDIF) and fees for the use of oxygen on board aircraft itself.
EFA and the ELF agree with the International Air Transportation Association (IATA) recommendation to have a single MEDIF form applicable to all European airlines, which could reduce paperwork required from medical professionals. Although some airlines do permit patients to use oxygen free of charge, in the worst case scenarios, patients are requested to pay up to seven times the normal price of travel on continental European flights, which EFA and ELF agree is a clear case of discrimination. This year, EFA has partnered with the European Disability Forum (EDF) and Rare Diseases Europe (EURORDIS), to meet the European airlines to discuss their policies further and pinpoint potential possibilities to transition away from discriminatory practices.
Moving from 'minimum standards for COPD care' into their implementations
This year our COPD Project builds on the momentum from the release of EFA's 2013 publication Minimum Standards of Care for COPD Patients in Europe focusing on three of the eight minimum standards of care for COPD patients in Europe identified by EFA members in the book:
Early diagnosis
Multidisciplinary approach
Rehabilitation – improvement and smoking cessation as a part of rehabilitation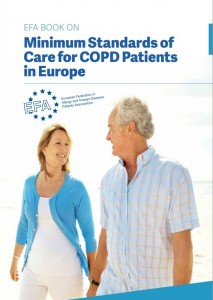 A survey is currently being distributed on the topics of 'How health checks are done for those at risk for COPD'and 'How rehabilitation will be achieved in each country' to participating EFA members as well as experts in the field of COPD from European Respiratory Society (ERS), International Primary Care Respiratory Group (IPCRG) and other national level organisations.
A report of the results will be created by the end of the summer. To help in achieving progress in achieving these minimum standards of care, EFA will create dialogue and decisions from ERS and IPCRG to define concrete steps and make decisions for closer cooperation between pulmonary specialists and general practitioners. This would serve to help in early diagnosis and encouraging multidisciplinary approaches. The meeting will take place at the ERS Congress 2014 in Munich.
EFA's members from Germany and Portugal also expressed interest in speaking directly to national payers organisations to discuss reimbursement policies for COPD medications. Representatives from the ERS will join for both meetings and a representative from IPCRG could be available to join the EFA member in Portugal for their meeting. A press release for World COPD Day 2014 will present the results of the meetings and also comment on the outcome of the meeting with airline CEOs. Lastly, translations of the publication in French, German, Italian, Spanish, Polish and Portuguese are in the process of being approved by EFA members and will become available for Autumn 2014.
EFA's Allergy Awareness Project Update
In the spring of 2014 EFA member Österreichische Lungen-Union followed up on its success running the Allergy Risk Check, where boxes of ARIA guidelines, questionnaires for allergy patients, guidance for allergy patient interaction and other useful materials were provided to pharmacies across Vienna. The project has since been repeated at the national scale across all of Austria in hopes of collecting more data from screening procedures and newly diagnosed patients due to the initiative.
This spring, inspired by the success of the project in Vienna, EFA's Italian member FEDERASMA has replicated the pilot project in Vienna within Italy for the city of Genoa which kicked off with a launch event attracting interest from media outlets (TV and newspapers). With only minor modifications to the pilot project of Österreichische Lungen-Union, the initiative successfully collected 570 questionnaires by mid-June with 299 pharmacies participating. The data collected from Genoa will be compared with that of Vienna to measure the overall impact of the pilot projects. Seeking action from national policymakers, EFA has finalised a lay version of the Allergy Alert! Paper that counts with the support of the International Primary Care Respiratory Group (IPCRG), the Allergic Rhinitis and its Impact on Asthma (ARIA), the European Academy of Allergy and Clinical Immunology (EAACI) and the European Union of Medical Specialists (UEMS), who are endorsing the paper and supporting EFA members in seeking improvement for allergology training in European countries.
In many countries, national chambers of doctors are responsible for deciding mandatory education modules in medical school, so the choice to include allergology training for medical students is not a clear action of the national ministry in each country. As a result, EFA members have been provided with tools to accompany the Alert! Paper in order to to meet with the national chambers of doctors and together work with them to discuss a potential solution to the problem at the national level. In Bulgaria, political uncertainty has challenged EFA's member ABBA in its attempts to create a national programme for respiratory diseases, but they have succeeded in creating a broad consensus among stakeholders that such a programme is necessary. As of 2014, ABBA has confirmed a pilot programme is under negotiation with the Ministry of Health. Meanwhile, the Norwegian Allergy and Asthma Federation has successfully pushed for a meeting with the Minister of Health in Norway to discuss a 10-year allergy programme as well as financing for pollen forecasting services. A draft proposal for the programme has been formally requested to the Directorate of Health, thus a national programme is considerd to be within reach!
EFA's Capacity Building Project
In the past, EFA successfully planned capacity building exercises for its members such as the EFA "Meet and Greet" the EU Institutions Trainings and the EFA Involvement with the EMA Training. In building upon these past successes, in 2014 EFA offers a pilot project specifically addressing EFA member needs at the national level for the very first time. The Capacity Building Project is designed to allow for customization matching local EFA Member needs, offering the opportunity for one meeting in three different European countries where all kinds of representatives from its member organisation can meet and identify crucial barriers to their organisation's growth. After the completion of a survey evaluating EFA Member needs in the winter of 2014, the EFA Board approved a shortlist of three countries for the meetings this year: Italy, Lithuania and Portugal. Each member in these countries provided a list of priority topics to discuss with EFA and a moderator. All meetings will be conducted in the local languages with interpreters present to assist EFA staff remain engaged in the meeting. In order to ensure the success of the meeting, EFA is presently in contact with local venues, interpreters and moderators. The meetings will take place in October and November of 2014 with reports made public in the weeks following their conclusion.