As part of our Membership strategy, in October and November we met with potential members in Hungary, associations representing people with allergy and respiratory diseases in the United Kingdom, and had the opportunity to discuss patient representation in Turkey. The purpose of these meetings is two-fold: expand EFA's representativeness an thereby the allergy, asthma and COPD patient voice at the European level and aligning at the national level by bringing EFA closer to members and potential members and vice versa: learning the needs, priorities and actions from countries closer to EFA.
Meeting with Hungarian patients representatives
On October 27th 2014, EFA representatives, Vice-President Christine Rolland and Project Manager Giuseppe De Carlo, met in Budapest the Hungarian Allergy Association and the National Society of Asthmatic and Allergic Patients (ABOSZ) represented by their Presidents, Professor Kristóf Nékám and Péter Pós. The meeting served to exchange experiences and find opportunities to collaborate with patients associations in Hungary and their willingness to become EFA members. The National Society of Asthmatic and Allergic Patients is an umbrella organization composed by 16 members dealing with asthma and allergy and focuses in prevention, patients' empowerment, and patients' quality of life. The Hungarian Allergy Association is a scientific association composed by 40 members representing patients, professionals, research institutes and institutions. Very active in raising awareness about allergies through targeted communications, the Hungarian Allergy Association is also active at political level: it is represented in the National Patient Forum and in the National Council of Sustainable Development, it participates in roundtable within the Parliament and is a member of the International Ragweed Society. During the meeting we discussed the situation related to non-profit and patients' associations in Hungary and, more specifically, on how EFA support could help those organisations to meet these needs. There is a growing concern in Hungary about the constant decrease in public funding available for non-profit associations and the consequent minimization of their role to raise social issues at national level. Therefore, EFA's could be targeted to the identification of other sources of financing, the empowerment of not-for-profit associations through training sessions and capacity building projects, the implementation of awareness campaign on issues of specific interest in Hungary, e.g. food for children, anaphylaxis, use of social media for identifying treatments and diagnosis. The meeting was very positive for both parts: in particular, the participants expressed their full satisfaction towards the outcome of the meeting and their interests in joining EFA as members.
Meeting with UK patients representatives
The UK Alignment Meeting took place in London on November 24th. The meeting has been organized by EFA, represented by the President Breda Flood and the Project Manager Giuseppe De Carlo, and was attended by two EFA members: Asthma UK, represented by Luke Tomlinson, and Allergy UK, represented by Lindsey McManus. Moreover, Action Against Allergy, represented by Michelle Berriedale-Johnson, was present as well for having an insight of EFA's work and for discussing opportunities for further collaboration. EFA President Breda Flood together with Giuseppe De Carlo presented EFA's current activities, with a particular focus on the initiatives on asthma and allergy, and EFA's strategy for the upcoming years. Afterwards, all the associations from United Kingdom had the opportunity to share with EFA and among themselves their activities, experiences and key objectives. In particular Asthma UK is establishing, in the context of the EU project European Innovation Partnership focused on asthma (EARIP); Allergy UK stressed on the importance of education as a tool for improving life of patients with allergies, in particular food allergies; Action Against Allergy needs support for the realization of an Allergy Alliance in UK: the idea has been launched years ago, but nothing concrete happened. The discussion focused on how to strengthen UK patients' associations collaboration among themselves and with EFA. All the participants considered the meeting as a great opportunity for creating networks at national and, through EFA, European level and asked for a replication of the initiative in the following months.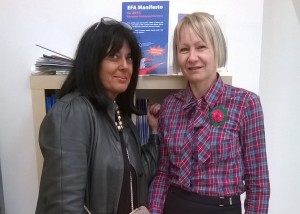 Meeting with Turkish patient representative
EFA met with Seda Kansu, cancer patient leader from Turkey who was visiting Brussels. As far as we are aware, people with allergy, asthma and COPD are not represented in Turkey and we discussed collaboration on how to contribute to such development. Turkey has a vast population and the issues for people with allergy and respiratory diseases are many. EFA looks forward to collaborate with Seda and we invite anyone having useful contacts/knowledge in Turkey to take contact with us at This email address is being protected from spambots. You need JavaScript enabled to view it.
Fragrances awareness campaign launched in Denmark
EFA Member Asthma and Allergy Denmark hast launched a campaign to help Danish choosing the perfume that goes better with them, especially if they have experienced allergies to fragrances. raise awareness about allergies to perfume. To determine the importance Danish give to perfume, the patients collected survey responses from 1,300 people. The result was that 1 out of 3 participants declared they could do easily without perfume. The survey also showed that many Danish are already aware of avoiding perfumed products when choosing items for children or to do the laundry. In general, Asthma and Allergy Denmark found that there is confusion about which products containing perfume. Although toothpaste contains almost always fragrances, more than half of the respondents believed that it does not. The smell of perfume has nothing to do with whether you or your home is clean. Perfume in fact has no effect in our body and cleaning products need to go beyond the smells to clean properly. It is not the smell that makes you clean!
EFA President and Asthma Society of Ireland Board Member Breda Flood featured in Irish newspaper
Asthma Society of Ireland Board Member and EFA President Breda Flood was featured in an inspiring and biographical interview in the Irish newspaper The Independent. The interview shows how patients can become to expert advocates if they are determined to do so.