Irish patients ask for stronger smoky coal legislation
EFA Member Asthma Society of Ireland organized an event to urge the Irish government to adopt a smoky coal ban to ensure clean air for all. According to the European Environmental Agency estimates, 1,229 lives were lost prematurely in Ireland because of poor air quality. However, since the Irish capital Dublin adopted a smoky coal ban in 1990, up to 9,000 have been saved from coal polluted air.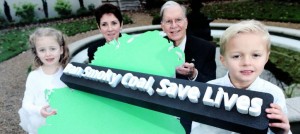 Sharon Cosgrove, Asthma Society CEO, commented, "It is vital that action is taken soon and we're asking the Government to deliver on the promise they made last year. It's unacceptable that air quality in small towns and rural areas is oftentimes worse than in major towns and cities and we need to move to more efficient, cleaner fuels. Now is the time to act to prevent any further unnecessary loss of life".
French food allergy patients speak about allergen policies in schools
EFA Member the French Association for Allergies Prevention (AFPRAL) President, Pascale Couratier, appeared in a magazine advocating for better allergen management in schools. She gave the food allergy patient perspective in the case of school children and how being forces to eat alone can increase the stigma of the disease. Do not miss the interesting article here.