People with severe asthma are difficult to treat. U-BIOPRED addresses knowledge gaps for severe asthma and seeks to identify new treatments along with best ways to make such treatments available to the general public.
Funded under the European Commission's 7th Framework Innovative Medicines Initiative (IMI), U-BIOPRED "Unbiased BIOmarkers in PREDiction of respiratory disease outcomes" aimsed to increase the understanding of severe asthma in order to develop more effective interventions for people living with the condition.
The project consortium relied on collaboration from universities, research institutes and the pharmaceutical industry as well as small and medium enterprises (SMEs) who contributed to accelerate the discovery of improved treatments for patients.
EFA's Involvement
EFA, along with two of its members Asthma UK and LongFonds together with the European Lung Foundation represented patients within the U-BIOPRED consortium.We were responsible for disseminating information, we brought the patients' perspective to the project, especially concerning ethics. Since 2009 EFA ex-Board Member Lina Buzermaniene was a patient member of U-BIOPRED ethics board and EFA Board Member Pelle Wecksell member of the Safety Monitoring Board.
EFA, together with the European Lung Foundation functioned as secretariat of the Patient Input Platform (PIP), a group of patient volunteers under U-BIOPRED.ThePIP's main role was to provide a patient point of view on questions raised within the consortium and their opinions regularly brought to the attention of U-BIOPRED scientists.
Thanks to the long term commitment of the PIP volunteers and the good functioning of the PIP, EFA have committed to ensure and maintain the PIP alive, beyond the end of the project.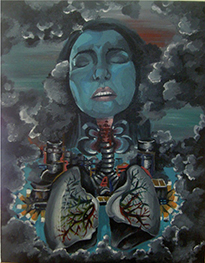 Given that our main role is to ensure patients having access to information on the project, we have contributed to many dissemination activities to position U-BIOPRED as best practice on patient involvement in respiratory research. We have placed this example:
in a presentation of the lessons learnt from patient involvement in U-BIOPRED at the Careum Congress (March 2014),
through public event "What role for diseases and patients in shaping Horizon 2020? A COPD case study of patient involvement", during the 2013 World COPD Day of which we published an Event report - November 2013
during our presentation at the Innovative Medicines Initaitive workshop (March 2013).
We have also contributed to the dissemination of U-BIOPRED project newsletters, update sent in 2015 and in 2013 conducted Video Interviews recordings during U-BIOPRED Annual General Meeting and European Respiratory Society (October 2013).
In addition, we have brought the patient perspective through:
Please visit U-BIOPRED website and Twitter to follow date-to date information on the project. You might wish to consult U-BIOPRED booklet as well. For more information, do not hesitate to connect our U-BIOPRED group on LinkedIn