Patient-led initiatives not only bring meaningful results for patients, but also broader support. In February, EFA Dutch Member Longfonds was awarded with a significant donation to fund their e-nose project; Italian Federasma e Allergie developed an app for asthma patients; Swedish Astma och Allergi Föndurbet created a travel food allergy, Allergy UK prepares for its annual conference and EFA was delighted to visit the British Lung Foundation.
EFA meets the British Lung Foundation
On February 12, EFA Project Manager Giuseppe De Carlo met in London Mike McKevitt, Head of Patients Services at the British Lung Foundation (BLF) to share activities and plans and to detect opportunities to collaborate in the future. The meeting focused on EFA's and BLF's ongoing actions on COPD, since both associations address this disease. EFA presented its activities under the COPD project and within the COPD working group, while BLF explained their role in supporting COPD patients in the UK. During the discussion, BLF shown particularly interest about EFA's initiative to harmonise medical oxygen use and commercialisation by airlines. Standardised procedures and practices among airlines will enable patients under oxygen treatment to travel across Europe at a reasonable price. BLF has a patient helpline that receive through plenty of complaints from COPD patients who encountered trouble when travelling by plane. EFA was impressed about the BLF initiatives in the UK.
Longfonds gets a 2 million Euro donation
On February 11, EFA Dutch Member Longfonds received the amazing amount of €1,307,295 from a Dutch Lottery to finance their activities and another contribution of nearly half a million euros for their phare project: the electronic nose (e-nose).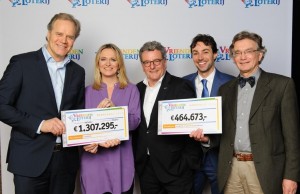 Longfonds Director Michael Rutgers on the left, receiving the prize from the Dutch lottery.[/caption] LongFonds is working to develop an e-nose that could detect lung diseases in exhaled air directly at the doctor's office. With this donation, the team will be able to launch a practical study conducted by the by the team of Professor Peter Sterk, from the the Amsterdam Medical. In the Netherlands a million people live with a chronic lung disease such as asthma or COPD. The e-nose will serve to determine if someone has such a disease based on the air exhaled. If a tool like the e-nose could be established in healthcare systems, early diagnosis would become more easy and quick. To know more about the e-nose, please visit Longfonds Director Michael Rutgers intervention in RTL TV.
The "Asthma diary", a phone app by Federasma
Mobile health (m-health) has the potential to empower patients self-manage their disease. Italian EFA Member Federasma e Allergie has created a smartphone application to support asthma patients control their disease. Diario Dell'Asma diary allows patients to record asthma symptoms, create treatment reminders, and have a better control of their disease. Special attention has been draw in the way the application is presented: the interface shows drop down menus to avoid spelling and writing mistakes. Once data is uploaded to the application, Diario Dell'Asma will help defining the status of asthma control, GINA guidelines. Patients can share results and information with their physician directly from the app via email.
Sweden develops a food allergy card to easy food allergy patients' holidays abroad
Eating out is part of the experience while abroad on holiday. For those who are allergic to various foods it immediately becomes much more difficult to order the right foods and concentrate on the most important - to relax and enjoy the holiday and the food. To make this part of holidays easier, EFA Swedish Member the Swedish Asthma and Allergy Association has developed a travel card for food allergy patients, translated into 30 different languages. The association offers the opportunity to its members to personalise their card according to the patient' allergies. ​​ In Sweden, about 15 percent of the adult population and 8 percent of children allergic to one or more foods. The foods that most commonly causes allergies are milk, eggs, fish, shellfish, legumes, fruits and vegetables, nuts, tree nuts, peanuts, seeds and grains.
Register for Allergy UK 2015 Annual Conference
This year EFA Member Allergy UK conference is called "Allergy: The Hidden Condition". It will take place on May 9 at St Thomas' Hospital, London and it will count on the expert views from internationally renowned clinicians and patients. Participants will have the possibility to attend practical workshops on food, respiratory or skin allergy.
Patient views in tobacco consumption report in the Netherlands
Every year more than 19,000 people die in the Netherlands from smoking while several thousand die from the consequences of passive smoking. The Netherlands ratified the WHO Framework Convention on Tobacco Control (FCTC) in January 2005 and in April 2014 the government submitted its fourth progress report. To evaluate whether governments are complying with FCTC obligations, non-government organisations produce shadow reports. The last shadow report, called "Dutch Tobacco Control: moving towards the right track?", was published in January and includes a significat contribution from EFA Dutch Member Longfonds.
Children in Finnish daycare centres say they love to be in the nature, the problem is access
The Finnish Allergy and Asthma Federation and the Pulmonary Association are running public communication activities in the Finnish Allergy Programme. As part of it, kids access to nature is of interest to support their 'allergy health'. One of the problems is that there is not enough personnel to 'go back to the nature'. Other problems are related to practical issues as well. 16 % of the daycare centers had some kind of specific 'nature' activities. 800 day care centers took part in the survey to know about the relationship to nature of the centres. The survey was done by South Karelian Allergy and Environment Institute in collboration with the Finnish Daycare centre Association Kimmo Saarinen and Tuula Ketola.
FENAER participates in an Idiopathic Pulmonary Fibrosis meeting
On January 24, the Spanish Federation of National Respiratory Diseases (FENAER) participated in the first Advacing Research in Idiopathic Pulmonary Fibrosis (IPF) meeting. FENAER President, Marivy Palomares, presented the association' point of view on several treatments that are you yet approved in Spain. She also referred in the discussions to the needs and obstacles rare respiratory disease patients who, affected by the budget cuts in health and research, have stopped their medication because they cannot afford it anymore.