Much new evidence of interest for allergy, asthma and COPD patients was published in March. We attended the launch of the EMA 20th years anniversary, the Roadmap for sustainable care, the EEA State of the Environment Report and the Healthy Homes Eurobarometer. EFA also particpated at the European Summit on Innovatin for Active and Healthy Ageing and several seminars on medicines and clinical trials. European Summit on Innovation for Active and Healthy Ageing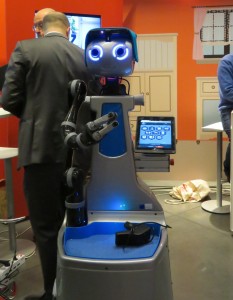 1200 visitors including policy-makers, patients, service providers and even robots participated in the European Summit of Innovation for Active and Healthy Ageing took place in Brussels on the 9-10 of March. EFA was represented by EU Policy and Membership Officer Jelena Malinina. The summit served to showcase the success of the first three years of life of the EIP for healthy ageing and to better understand all the links between ageing, employment and health. During the summit 32 sessions and workshops were organised and more than 20 start-ups presented their work at the exhibition. Thecnologies and smart care policies will be key to achieve an active ageing. The final report on the summit will be published in April. More information, as well as some of the presentations from the summit are available here. Horizon 2020 Scientific Panel for Health EFA's Susanna Palkonen took part in the first working group meeting of the Horizon 2020 Scientific Panel for Health. With the support of the DG Research and Innovation, the Panel will organise a public meeting 9th of June in Brussels and present the work done so far. The European Medicines Agency celebrated its 20th anniversary This year the European Medicines Agency (EMA) is celebrating its 20th birthday and organised an anniversary conference "Science, Medicines, Health: patients at the heart of future innovation", EFA was represented by Lina Buzermaniene (Lithuanian Council of Asthma Clubs) and Jelena Malinina (EFA EU Policy and Membership Officer). The event featured changes and progress in medicines regulatory science over the past 20 years especially on chronic diseases like cancer. The conference is recorded and available online. Furthermore, EMA has published an anniversary book, which is available here. Roadmap for sustainable healthcare published On 19March, EFA EU Policy and Membership Officer Jelena Malinina participated at the conference "Roadmap for Sustainable Healthcare". The conference was aimed to gather together all actors including patients, health professionals, policymakers to discuss the challenges for the European healthcare systems, as well as to present the guidelines and best practice examples on how to respond to the challenges posed by a growing ageing population, chronic diseases burden, as well as to an ongoing economic pressures related to unprecedented cuts to public spending on health. It was highlighted that concrete innovative actions are needed to make the transformation of healthcare systems a reality, from acute care to chronic care, from hospital dependency to integrated care across all levels of health systems, as well as from cost and volume to value and outcome. These reflections have led to the identification of three main opportunities that should guide the transformation of healthcare systems towards sustainability, namely:
action 1: investing in prevention and early intervention;
action 2: fostering empowered and responsible citizens;
action 3: reorganising care delivery.
Other recommendations presented during the event as well as country-specific examples can be found here. Sex and Gender in Medicines Regulation and Medical Education workshop On the 4th of March, EFA EU Policy and Membership Officer Jelena Malinina participated in the workshop on Sex and Gender in Medicines Regulation and Medical Education.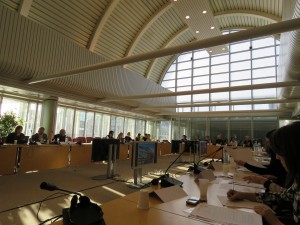 Women have been traditionally underrepresented in clinical trials and consequently the evidence base has been weaker for them. This applies also to older people. In accordance with the revised Clinical Trials regulation, both population groups who are the heaviest users of medicines will now have to be included in clinical studies, and if not included, the reasons have to be justified. The new legislation will also provide rules for the inclusion of pregnant women under the strictest safety conditions. It is hoped that the new legislation will strengthen the protection of patients/clinical trial subjects and streamline the clinical trials process in Europe, thus bringing more evidence-based medicines to the patient faster while providing greater protection for them. The workshop highlighted the further need to include and implement sex and gender aspects in medical regulation, research policies, as well in medical education of all health professionals involved in the delivery of care. Air quality ranking for European cities: Sootfree On the 31st of March, EFA's Roberta Savli participated at the presentation of a city ranking on air quality activities in Europe. The Sootfree Cities Ranking has been prepared by BUND/Friends of the Earth Germany and evaluates air quality activities of 23 European cities in 16 countries with regard to air pollution from transport. The result of the ranking shows considerable progress in abating air pollution of PM10 particles so dangerous to human health. Compared to the last ranking four years ago we see substantial improvements in clean air policies for urban areas. However, something more needs to be done. It was underlined in the panel discussion with three Members of the European Parliament, MEP Girling, rapporteur of the directive on the national emission ceilings currently under revision, MEP Dance and MEP Eickhout, both shadow-rapporteurs, that cities and regions must not be left alone in their efforts to reduce air pollution by EU and national policies. To know more about the ranking you can visit the Sootfree website. Launch of the Healthy Homes Barometer On 24 March, EFA Deputy Director and EU Policy Advisor Roberta Savli and EFA EU Policy and Membership Officer, participated in the panel debate "The Launch of the Healthy Homes Barometer" hosted by the Member of the European Parlimanent Christel Schaldemose. During the event The Fraunhofer Institut für Bauphysik (IBP) presented a white paper determining the impact of improved indoor climate on health and learning in European homes and schools. The study is combining existing research in one analysis to answer the question: how good is the indoor climate in European homes and school, and how does indoor climate affect our health and learning.The conclusions from the white paper and underlying analysis are:
80 million Europeans live in homes that suffer from dampness, which is likely to lead to mould growth
Living in a home with mould growth nearly doubles the risk of developing asthma
The risk of developing respiratory diseases like dry cough and wheezing are doubled in homes with low ventilation rates
Improving classroom ventilation can lead to learning improvements of up to 15%
Poor classroom ventilation increases student absence
Daylight has an effect on sleep quality and mental health
Temperature has an influence on sleep quality. Increased bedroom temperature decrease the duration of slow wave sleep by approximately 15% per a 5°C increase
What is more, VELUX group presented their study of European citizens' attitudes and behaviour regarding home comfort, energy consumption and environmental impact "Health Homes Barometer 2015", were they asked Europeans how important nine factors are to their health. All survey results can be found here. Clinical Trials Regulation: One Year Later On the 26th of March, AmCham EU (the American Chamber of Commerce to the European Union) organised an event on the new clinical trials regulation, one year after its adoption by the European Parliament and the Council. The report "Clinical data and disclosure policies" was presented and was followed by a panel discussion on transparency in clinical trials. EFA was invited to speak and Senior EU Policy Advisor Roberta Savli presented patients' perspective on the importance to be transparent when it comes to publication of clinical trials results. Together with regulatory bodies at national level and representatives of pharmaceutical industries and academic researchers, the discussion focused on the challenges for the implementation of the new regulation. EFA welcomed the new provisions increasing transparency that could result in increased patients' empowerment, better research developments and enhanced trust of the general public in the medical research. We called for a specialised EMA working group to define transparent and clear criteria for the release of patients-level data and for increased collaboration within all stakeholders. European Multiple Sclerosis Platform Employment Pact EFA's Susanna Palkonen attended the very successful launch of one our fellow organisations, European Multiple Sclerosis Platform (EMSP), of their European Employment Pact for People with MS and other neurodegenerative diseases, hosted by the MEP Rosa Estaras, who is the chair of the EP Intergroup of disabilities.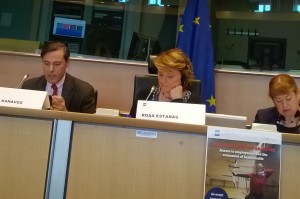 EFA very much agrees that the key word is accessibility, everywhere in housing, work, despite the disease so that patients can remain mobile, at work and have safe environment. This involves adapting premises, flexible work arrangements and opportunity for reduced working hours/long distance work, often very simple and non-costly adjustment are sufficient. MEP Jeroen Lenaers, who is in the EP Committee of Employment and Social Affairs also supported this action and said that there should not be any discrimination based on health condition. When it comes to treatment, Panos Kanavos, Deputy Director of the London School of Economics told the audience that some issues are generic for different diseases. Health are decision makers want safety, efficacy, efficient treatments/medicines. Assessing health technologies has health system perspective rather than societal perspective. This means that direct non-medical costs are not necessarily looked at, yet they count for a significant amount of the cost. Societal impact of MS is for example unemployment. Ability to capture the issues of value from patient perspective in the evaluation of quality of life is all too often not included. If you ask MS patient, for example fatigue is not covered. EFA agrees that these issues are important across diseases and congratulates EMSP for highlighting the issues! IMI Financial Workshop On the 10th of March, EFA participated in the Financial Workshop organised by the Innovative Medicines Initiative. The workshop targeted staff from organisations that are involved in ongoing IMI 1 Projects, such as U-BIOPRED. The event aimed to provide guidance regarding the preparation of financial reports and opportunities to share experiences and ideas. It also served as a platform for beneficiaries to be informed on all preparations needed regarding IMI audits. Policy Roundtable on Seasonal Influenza Vaccination On the 26th of March, EFA participated in a Policy roundtable on seasonal influenza vaccination. Hosted by MEP Karin Kadenbach, she highlighted the impact of seasonal influenza in European countries and informed that this topic will be top on the Commissioner agenda. The topic requires attention given that despite the fact that several Member States have Vaccination recommendations in place, there are very little structures to properly monitor and report European data as accurate European data is still lacking.