EFA Board meeting was hosted by the Asthma Society of Ireland: Thank you!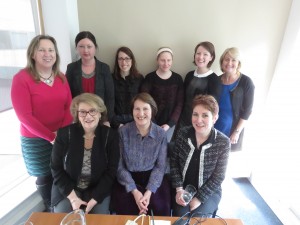 EFA Board had their meeting in preparation of our upcoming Annual General Meeting (AGM) at the offices of the Asthma Society of Ireland (ASI) on the 23rd of March. We were delighted to meet the ASI Chair, Maelíosa OhOgartaigh, the Director Sharon Cosgrove and her team at the office and hear about their fantastic work to improve the health of people with asthma and their families as well as on health promotion on asthma. To see what's on in Ireland, please Asthma Society of Ireland website.
EFA Members become 3.0
Our network of national associations are creating clearer and nicers ways to connect with patients in their countries. This is a round-up of the new communication tools created by our members in March:
Swedish Asthma and Allergy Association wins twelve million Swedish Krona
EFA Members the Swedish Asthma and Allergy Association has received a prize worth 12 million (around 1.3 million Euro) from the Postcode Lottery. The lottery selects over fifty organizations working in the areas of human rights, animals, nature and the environment. The money is fundraised through the people that decide to buy lottery tickets to make a better world. In this edition, the lottery sold more than a million tickets. Roughly, a million kronas will be addressed to allergy camps and other activities initiated by the assoication. Another 1.5 million will go to the Swedish Asthma and Allergy Association Research Foundation, which supports research to make daily life with asthma and allergies easier. The remaining money will serve to fund several projects. The prize received in 2014 served to finance the following activities: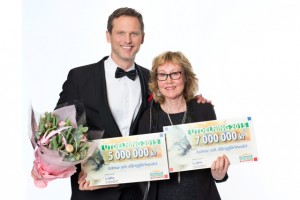 Sailing Camps in Stockholm for some seventy children and adolescents with allergic disease
Winter Camp in Idre for children and adolescents with severe asthma, with fifty participants and leaders
A Barnallergiår (Children's Allergy Year) with a large number of well-attended family events and other activities
A digital version of Allergy Ronden (Allergy Check Tour), so that schools can be improved for both students with allergies and others
Support groups for families with severe allergies and family support programs at our facility Södergården outside Åre.
French Allergy Day activities
EFA French Members Asthma and Allergies and the Association Francaise pour la Prevention des Allergies (AFPRAL) mobilised to celebrate the 9th edition of the French Allergy Day. The Asthma and Allergies association organised a live chat on Twitter to discuss about the causes of allergy: allergen aggravating factors and tips to act. The objective of this activity was to raise awareness about allergy and to encourage patients to dare to speak up about allergy symptoms. The association also launched a comprehensive website called "Allergie, J'agis!" (Allergy, I do something about it!), that provides a better insight about of to recognise early igns of allergy, when to consult an allergologist, what treatments exist, how to avoid crises, how to improve indoor environments, etc.
Bulgarian asthma and COPD patients launch the Breathe Free campaign
The Association of Bulgarians with Bronchial Asthma, Allergy and COPD (ABBA) has launched a national campaign for policy change to tackle respiratory diseases. The campaign builds on EFA efforts at European level to develop holistic prevention and care programmes for allergy, asthma and COPD in EU Member States will seek the support of the new Bulgarian Members of Parliament that have just been elected. ABBA will strongly advocate to get statistics for respiratory allergies in Bulgaria, to better inform decision making and several policies at national level like and will call o national authorities to:
Develop a National Programme for COPD, asthma and allergic rhinitis
Ban smoking in public places
Assess air pollution and its impact on health
These actions of public advocacy towards health authorities will be coupled with awareness activities like those articles explaining air pollution and COPD, the effects of dirty air, current legislation of particulate matters, air quality in Sofia. If you wish to keep updated on the latest developments of this campaign, please follow ABBA's Facebook Page and join their Facebook Community.
Patients react to the Polish National Air Protection Program draft
Ambient air in Poland is characterized by high particulate matter (PM2.5) concentrations and the exceedance of allowable daily mean concentration of PM10. Poland needs urgent corrective and preventive actions of further deterioration of air quality in Poland needs to be decisive and fast. On March 9th, the Polish Minister of Environment launched a draft National Air Protection Program (NAPP). It is a strategic document, not legally binding. The NAPP focuses mostly on the low-stack emissions (emission of air pollutants from household and commercial sector). According to EFA Member the Polish Federation of Asthma, Allergy and COPD Patients' Organisations, it is very positive that the NAAP was announced but it lacks a holistic approach to the problem, which should be considered taking into account on the same level of importance all crucial sources of air pollutants emissions, such as transport, energy and industrial sectors. The NAAP uses analysis of main reasons of PM10 concentrations exceedance rather than analysis of PM10 emission sources contribution which could lead to erroneous conclusions. There is also a lack of measurable goals and timetable in the programme. Moreover, it will not introduce legal or technical changes which could improve air quality in the nearest future. Some suggestions have been proposed to mitigate the air pollution problem, such as the prohibition of use of low quality solid fuels, the introduction of technical requirements for boilers and stoves that are used in household sector, the creation of low emission zones and the adoption of a public health act. The introduction of these law amendments would theoretically be possible to be implemented without National Air Protection Program even before the end of 3rd quarter of 2015.
Finnish Allergy Week campaign
The Finnish Allergy and Asthma Federation recently organized an annual national Allergy Week from 23th to 29th March 2015. This year's campaign raised awareness of allergic rhinitis and encouraged the public to be considerate towards people who are allergic or sensitive. Finnish celebrities radio host Jone Nikula and journalist Anna Perho feature the campaign. The slogan Olemme herkkä kansa (We are a sensitive nation) indicates that up to half of the Finnish population suffer from allergies or sensitivities. The campaign has been visible through street advertisement and online (www.allergiaviikko.fi, www.facebook.com/Allergiaviikko and Instagram #allergiaviikko). The campaign was sponsored by LV and Cutrin Sensitive.
FENAER participates in a seminar on the Cross-Border Healthcare Directive
On March 16, the Spanish Federation of Respiratory Diseases Associations (FENAER) participated in a seminar organised by the European Patients' Forum (EPF) and the Spanish Patients Forum on the EU Cross-Border Healthcare Directive. Participants shared knowledge and experience about how the Directive works for patients and how it can help the prospect of a strong European patient.