We are pleased to announce on behalf of the MeDALL Consortium the celebration of the event "Are Europeans developing more allergies? – From research to policies", an event at the European Parliament in Brussels.
This public event, hosted by distinguished guest MEP Alberto CIRIO, will take place at the European Parliament on Thursday the 28th of May from 10h00 – 12h00, room A5E3 in the Altiero Spinelli building.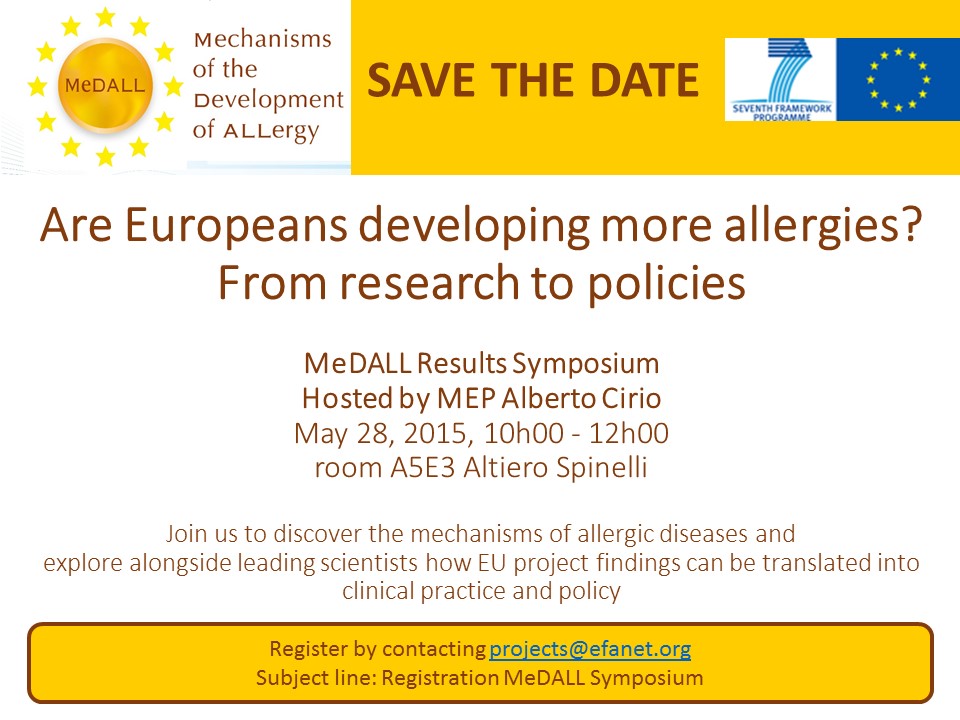 The event counts on a very attractive programme to showcase on the results of the ground-breaking EU-funded allergy project, Mechanisms of the Development of ALLergy and has two objectives:
to inform patient representatives, policymakers, healthcare professionals, researchers, academia and other relevant stakeholders about the MeDALL project research outcomes and their integration in the clinical practice, beyond the project lifespan, to the benefit of European healthcare systems and patients' quality of life in the future, and
to open a discussion on how EU-funded research can be translated into concrete outcomes.
Due to the capacity of the meeting room, we will only be able to accommodate a limited amount of people.
If you wish to participate in this multistakeholder event, please send an email, no later than Wednesday the 20th of May, to This email address is being protected from spambots. You need JavaScript enabled to view it. providing the following details:
- Name
- Date of Birth
- Nationality
- If you possess a Passport or national Identity Card
- Passport / National Identity Number
We would be honoured to count on your presence and participation at this event.
For more information on the MeDALL please check EFA's contribution to the project and the MeDALL website