If healthcare professionals, patients, industry leaders and policy makers join forces to reduce the burden of allergy, allergy prevention can be achieved in the future. That is the vision we presented at the 2015 Annual EAACI Congress (European Academy of Allergy and Clinical Immunology) in Barcelona from the 6th to the 10th of June, were we supported our case by presenting the outcomes of our allergy awareness project in Italy and informing about the ongoing European Innovation Partnership for Asthma.
EFA's President Christine Rolland presented at the EAACI High-Level EU Stakeholders Lunch 2015 "Together, solving the allergy epidemic in Europe", a session that focused on the actions that can be undertaken in partnerships at European level to help solve the allergy epidemic.
If no action is taken now, 50% of European citizens will be affected by some form of allergy, with no age, social or geographical distinction by 2025. Representatives from the European Commission and its Executive Agencies, the European Parliament, as well as healthcare professionals, patients, industry leaders, and other key EU health stakeholders identified actions needed to tackle the burden of allergy on European patients and healthcare systems and the way to join forces to improve the current situation.
EFA President highlighted allergy patients far too often experience not only physical symptoms due to allergies but a decreased quality of life with higher risk of emotional (shame, loss of self-esteem) or depressive disorders, and family problems (restrictions in family life, parent anxiety, overprotection, hostility).
Christine Rolland also presented EFA actions linked to our asks to improve allergy patients' quality of life, participation, and also to prevent disease-related complications:
the harmonisation of the education for medical specialists (allergologists) and increased coordination among the different medical doctors dealing with allergy is needed to improve early diagnosis and avoid the allergic march;
fostering allergy research in Europe by allocating funds under Horizon 2020 and the Third Public Health Programme with the objective of helping discovering still unknown causes of allergy and moving towards personalised treatments;
an EU strategy on chronic diseases with disease specific best practices, including the Finnish Allergy Programme, should be developed to improve allergy management and enhancing patients' quality of life;
the prevention of the allergy onset and symptoms worsening, through acting on the responsible health determinants, such as indoor and outdoor air quality, real-time pollen information in Europe, chemicals' exposure.
Showcasing the role of pharmacist guiding patients towards right diagnosis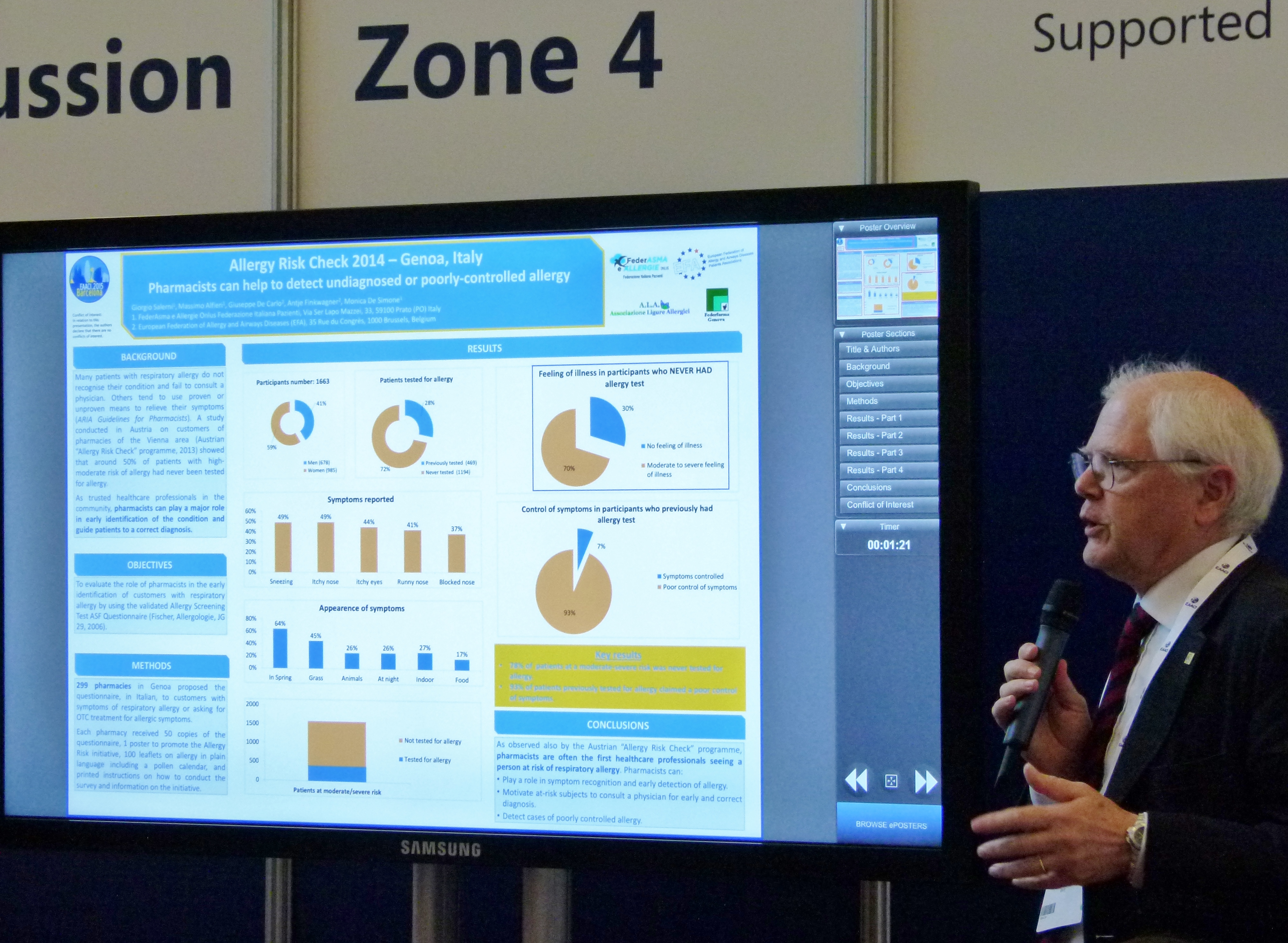 Although there is a need for harmonized education for allergologists in Europe, it has to be recognized that pharmacists also play a major role on early diagnosis and in guiding patients towards the right diagnosis. A study conducted in the Liguria Region (Italy) has demonstrated that many patients are not able to recognize their condition and do not consult physicians for allergy tests.
EFA Member FederASMA and ALLERGIE Onlus in collaboration with Federfarma Genova and Associazione Ligure Allergici, involved 299 local pharmacies in submitting the validated Allergy Screening Test ASF Questionnaire (Fischer, Allergologie, JG 29, 2006) to customers with respiratory allergy or asking for over-the-counter drugs for allergic symptoms as a means to assess the role of pharmacists in the identification of respiratory allergy symptoms.
Among the 1,663 participants in the study, 70% presented a moderate to severe risk of allergy and 64% manifested symptoms mainly during the spring season. The vast majority of participants (1,194) had never been tested for allergy before: among them, 70% had a strong feeling of illness and 64% presented a high risk of having allergy.
The results presented at EAACI Congress by Mr Giorgio Salerni from FederASMA and ALLERGIE Onlus and they are in line with the conclusions highlighted by the 2013 Austrian "Allergy Risk Check" programme. Most importantly, they confirm the fundamental role of the pharmacist recognising allergy symptoms and promoting early detection. They, the pharmacists, could and should act as motivators for people at risk of allergy and invite them to consult a specialist for a proper diagnosis.
To know more about these results please visit our Allergy Awareness project.
Towards a European Innovation Partnership for Asthma
On Saturday the 6th of June, Breda Flood from EFA Member Asthma Society of Ireland, participated to the workshop "A European Innovation Partnership for Asthma: make innovation work" where she presented how patients and patient organisations can contribute towards a European Innovation Partnership for Asthma (EARIP). Breda elaborated on the role of patient organisations, to represent patients to healthcare professionals and policymakers, ensuring that the patient voice is heard in research, policy, and the public arena. She encouraged the creation of relevant partnerships in the field of asthma and patients' involvement to address the weaknesses and gaps currently found in healthcare systems and research.
EARIP is an EU-funded project led by EFA Member Asthma UK in which EFA participates that aims to enable innovation in the field of asthma, by bringing together European Stakeholders to establish a European Innovation Partnership. Through the coordination of this pan-European partnership, EARIP aims to reduce the burden of asthma, while putting patients at the heart of their asthma management and treatment.