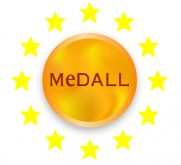 The MeDALL project ended in May with a public event organized by EFA at the European Parliament. During its 5 years of implementation MeDALL partners investigated the mechanisms of allergy from early childhood to young adulthood, in order to propose early diagnosis, prevention and targets for therapy.

The MeDALL project has shed light on why and how young people develop allergies – immune responses to substances that are normally harmless. It identified new ways of classifying allergic reactions, helping researchers to find possible influences from genetics, the environment and diet and allowing doctors to better target treatment.

The project combined existing study data on a database of 44.000 children from birth to understand how allergies develop in different people and to come up with additional ways to classify allergic responses by their characteristics (phenotypes). New phenotypes emerged that could help predict therapy needs from an early age. In particular, asthma, eczema and rhinoconjunctivitis are closely interrelated and should be considered together.

In terms of new options for treatments, MeDALL researchers found how to carry out immunotherapy early in life. In addition, the project supported the transfer and adaptation of the Finland's successful allergy-reduction national programme to other parts of the EU.

"MeDALL helped us understand the concept of allergy correctly," states project coordinator Jean Bousquet of France's Institut National de la Santé et de la Recherche Medicale (INSERM) in the attached article published on the European Commission's website. The article gives a clear overview of this successful European research project and the exciting results which have expanded our understanding of asthma and allergy.
For more information about the project results and plans for the future please read the full article here, and more information on EFA's involvement in MeDALL can be found here