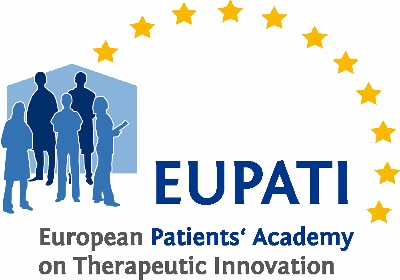 On Wednesday 27th of January the European Patient's Academy on Therapeuric Innovation (EUPATI) launched it's new Educational Toolbox.
The online toolbox contains patient-friendly, ready-to-use educational material on medicines' research. For example, content includes information-rich e-learning modules and best-in-class educational materials on discovery research, clinical development, regulatory affairs, medicinal safety, pharmacovigilance and the principles of health technology assessment. Users can access a wealth of fact sheets, graphics, slideshows, videos, recorded webinars, print-ready materials as well as a full glossary.
European patient groups and patient advocates are invited to use the toolbox to discover the latest educational resources, to educate and train patient communities, and to identify opportunities on how to get involved in medicines R&D.
The EUPATI Internet Library will cover specific aspects of the medicines development process and related products (e.g., medical devices, combination products) for patients and consumers with little or incomplete (health) literacy.
Via the online Toolbox, EUPATI hopes to support patients and patient advocates in their advocacy work in learning about the medicines development process.
The online toolbox will be made available in 7 languages;
English, Italian, Spanish, Polish, German, French and Russian.
To find out more watch their promotional video here: https://vimeo.com/152251690 and find the toolbox itself here