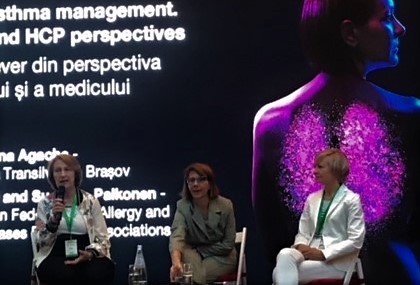 The National Conference of the Romanian Society of Clinical Allergology and Immunology took place in Sinaia between the 17th and the 19th of May. As part of the conference, EFA Director Susanna Palkonen and past EFA President Breda Flood, participated in a symposium entitled "Severe Asthma Management: patients and healthcare professionals perspectives". In a dialogue with Professor Ioana Agache, EAACI President, B. Flood and S. Palkonen talked about the importance of getting a proper diagnosis for severe asthma, the research needs, from phenotyping to personalised treatments, and the potential of new technologies for the self-management of the disease.
Mrs Flood stressed the importance of proper diagnosis and targeted treatments, as they are two key components to safeguarding severe asthma patients' good quality of life. After struggling a lot with her condition and having spent years before getting the right diagnosis, Mrs Flood is now able to walk without coughing, to speak without coughing, to swim and do sport activities with her children! It is important that all patients are well informed about their condition and have a good collaboration with their doctor.
Before the symposium, EFA representatives had the chance to meet a group of patients willing to set up a patient association in Romania where, at the moment, support groups for respiratory patients are missing. The people we met expressed their challenges and their needs and asked for advices. We have already started dialogue and we hope to support this people in giving a voice to patients with allergies and respiratory diseases in Romania.
Learn more about this conference here.