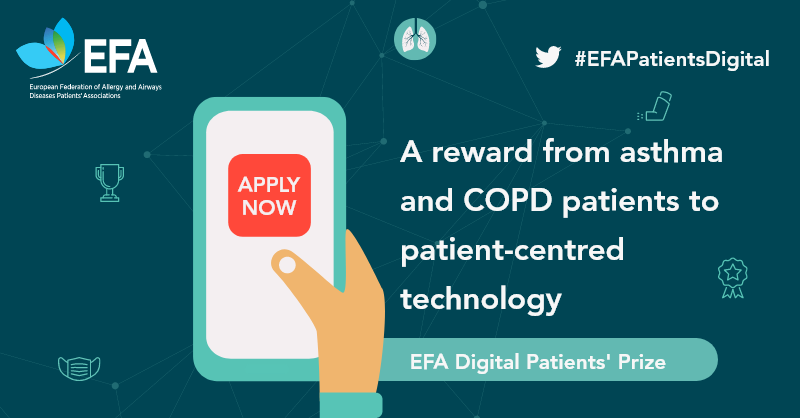 Rewarding the asthma and COPD digital care innovators
We are all experiencing an ongoing digital revolution that presents itself with concrete opportunities to improve the lives of people across Europe. But what are the digital tools and solutions that serve patients improve their asthma and chronic obstructive pulmonary disease (COPD)?
A Prize from patients to reward patient-centred technology for respiratory disease
To take stock of ongoing developments, EFA is launching a prize to celebrate achievements in the digital health sector that centre asthma and COPD patients' needs from development to implementation
EFA Patients' Digital Prize is a recognition granted by patients to reward those digital health initiatives that centre patients through their design, accessibility and efficacy. A prestigious jury will be looking at the pillars for a successful tool, and how the innovators introduce the approaches of co-creation and digital partnership between patients, healthcare providers and solution developers.
Apply now for EFA Patients' Digital Prize
If you a developer whose digital technology breaks down barriers in equity, promises security, and looks beyond controlling asthma and COPD and towards improving Quality of Life – we want to hear from you!
Check the Terms of Reference and conditions, the submission form and the evaluation criteria and let us know about your technology for asthma and COPD.
A European recognition from patients
The finalists of the EFA Patients' Digital Prize will be invited to the award ceremony late April 2023 in presence of EFA's 45 patients organisations in 26 countries, to benefit from structured exchanges with the asthma and COPD patient community in Europe.
The winners will be recognised by patients at European level as forward thinkers, engaged in empowering people with asthma and COPD to improve health outcomes, and key digital health partners.
EFA will communicate about the winning solution across our communication channels and in a press release.
Selection process
The EFA Digital Patients' Prize will acknowledge digital technologies that fit in one of three disease-focused categories:
Prize for best digital technology covering asthma.
Prize for best digital technology covering COPD.
Prize for best digital technology covering both asthma & COPD.
To choose the winners of each category, a panel of eight individuals agreeing to the Terms of Reference for Jury Members will be selected by EFA Office by March 2023 that is composed of:
1 asthma patients' representative from EFA Members.
1 COPD patients' representative from EFA Members.
1 young asthma patient from the European Allergy & Asthma Youth Parliament.
1 healthcare professional from the respiratory sector.
1 digital health industry expert.
1 payer representative.
1 European/EU Digital Health Authority representative.
1 representative from the EFA Sustainable Corporate Partners (pharma) that supports the EFA DIG_IT project with unrestricted grants.
Prize timeline
Call for submissions: 1 February 2023 – Monday 27, March 2023
Selection of the Jury: March 27, 2023
Evaluation period: March 28, 2023 – April 2, 2023
Announcement of finalists: April 10, 2023
Prize ceremony: 27-28 April 2023 in Ghent, Belgium
Acknowledgements
The EFA's DIG_IT Prize is being made possible thanks to unrestricted grants from EFA's Sustainable Corporate Partners Chiesi and Roche.