World Atopic Eczema Day 2023: #IfYouOnlyKnew
World Atopic Eczema Day 2023
Atopic eczema is one of the most prevalent skin diseases in the world and one of the most under-recognised. Often dismissed as "just a skin condition," patients' needs are not addressed in a supportive and timely manner.
The Atopic Eczema Community will come together on September 14th to raise awareness for the disease, to speak up about the burden it has on patients and caregivers, and to recognise the need for care and treatment that is reflective of the multi-dimensional nature of the disease.
This year, we will focus on the psychosocial burden on children and youth living with Atopic Eczema. This year's campaign will share the thoughts of children and youth living with atopic eczema through the hashtag #IfYouOnlyKnew.
Why World Atopic Eczema Day?
World Atopic Eczema Day was launched in 2018 to raise awareness about the disease globally and across Europe through an initiative coordinated by the European Federation of Allergy and Airways Diseases Patients' Associations (EFA) and the International Alliance of Dermatology Patient Organizations (GlobalSkin).
The day marks the effort of the patient community to:
Build a global movement for awareness and change, improving the lives of people living with atopic eczema,
Empower patient groups to make their voices heard by providing targeted messages and materials,
Support and honor atopic eczema patients, their families and caregivers,
Inform the general public about atopic eczema and enhance understanding for the disease and the people living with it.
World Atopic Eczema Day has focused on specific themes through the years:
2022: Inside Atopic Eczema!
In 2022 the objective of the campaign was raising awareness among the general pubilc, the institutions and the healthcare professional community regarding the many burdens this illness causes on patients and carers.
Visuals and messaging were grouped around five key burdens:
Burden of Extreme Itch and Physical Pain
Burden on Family and Caregivers
Burden on Finances
Burden on Mental Health
Burden of Daily Management
Download the World Atopic Eczema Day Communications Toolkit 2022: [EN] [ES] [FR] [SRB] [TR]
Download Social Media Cards, Printable and Logos: [EN] [ES] [FR] [SRB] [TR]
2021: Unite for Atopic Eczema
In 2021 we continued the digital campaign to call on healthcare professionals, health policy decision makers and all stakeholders to unite with the atopic eczema patient community and work together to recognise the need for care and treatment that is reflective of the multi-dimensional nature of the disease.
2020: How do YOU care for atopic eczema?
In 2020 we brought attention to patients and their families, focusing on how the disease seriously impacts families' daily life. We encouraged healthcare professionals and decision makers to ask themselves "how do YOU care for atopic eczema?" through a toolkit for an entirely digital campaign.
See our 2020 Campaign Materials
What you will find in the WAED 2020 Communications Toolkit
Campaign details and background information on the day
Ready-to-use social media materials and messages
Printable materials to share your personal messages
Templates to reach out partners and the media
Scientific data about atopic eczema and myths and facts
Logo and branding guidelines
Tips for campaigning on social media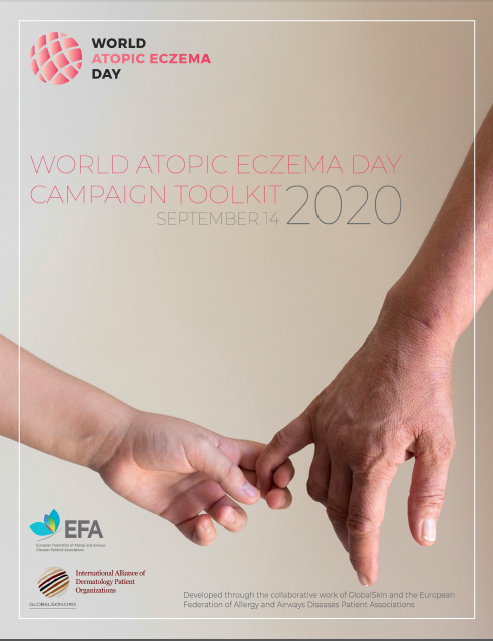 2019: Atopic Eczema – Beneath the surface
The launch of the World Atopic Eczema Day logo brought the community together to focus on how atopic eczema is much tougher on patients than people understand. Bringing the AtopicalLives photo exhibiton online and emphasizing it with an atopic eczema video, EFA invited a broad audience to take a look beneath the surface and get an insight on how the disease impacts patients' lives beyond their skin.
2018: Raising Awareness for Atopic Eczema
With the European Report "Itching for Life: Quality of Life and costs for people with severe atopic eczema in Europe", EFA provided insights into how atopic eczema impacts patients' Quality of Live. The report provided new patient evidence on the diseases' physical, mental and financial impact on patients. The accompanying AtopicalLives photo exhibition, that was presented physically at EADV Congress in Paris, allowed for deep personal insights into the daily life of atopic eczema patients from all over Europe.
What is atopic eczema?
Atopic eczema is a chronic inflammatory skin disease that sits at the center of other health issues: it impacts mental health, and leads to the development of other diseases. Atopic eczema is incredibly difficult on patients and their families, seriously impacting daily life. An individual's health and overall wellbeing can be severely impaired by the disease.
If you need more information about World Atopic Eczema Day, please contact This email address is being protected from spambots. You need JavaScript enabled to view it..
Thank you to all our World Atopic Eczema Day supporters, especially the expert patients of EFA Working Group on Atopic Eczema (a group formed by EFA Members), who have contributed to the planning and execution of this campaign.
Acknowledgements
EFA thanks sincerely our Sustainable Corporate Partners for their support for this project over the years:
2023: AbbVie, Sanofi-Regeneron
2022: AbbVie, Sanofi-Regeneron
2021: AbbVie, LeoPharma, Sanofi-Regeneron
2020: AbbVie, Sanofi-Regeneron
2019: Pfizer, Sanofi-Regeneron
2018: Regeneron, Sanofi