Patient involvement is a key for the success of EU innovative research for allergy and respiratory diseases
Patients' representatives from more than 25 European countries participated in the very first stakeholder event of the new European Parliament, co-hosted by Members of the European Parliament (MEP) Catherine Stihler (United Kindgom, S&D) and Petru Luhan (former MEP from Romania, EPP) with the participation of Karin Kadenbach (Austria, S&D). The debate, organised by EFA, provided the EU institutions' representatives, healthcare practitioners, academia, not-for-profit organisations, and expert patients with the opportunity to share their visions on how innovative EU funded research can positively impact the lives of asthma, allergy and chronic obstructive pulmonary disease (COPD) patients in Europe. Although healthcare systems and social investment rely on EU national budgets, the European Commission is working to improve public health across the 28 Member States. "Investing in health should be one of the main aspects for our drive to raise employment in the EU", declared MEP Karin Kadenbach. EFA President Breda Flood presented EFA's participation in four EU funded projects ensuring the patients's perspective.
Photo: MEP Karin Kadenbach on the event opening remarks.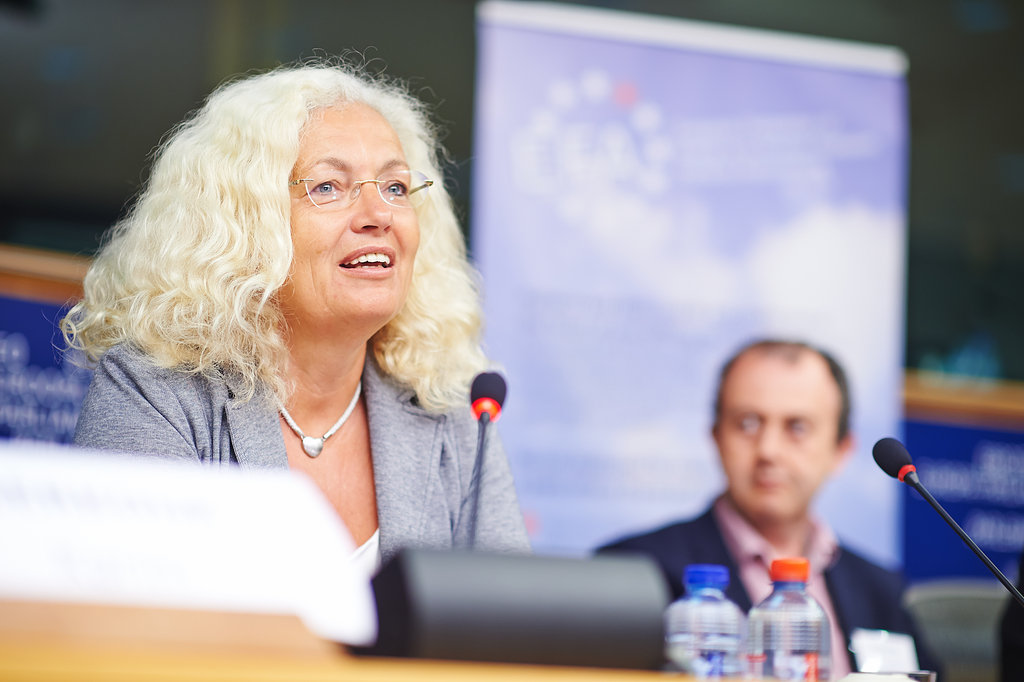 During the period 2007-2013, the Commission has allocated 5.5 billion Euros to health research, from basic to clinical research, according to Karim Berkouk, from the European Commission Directorate General for Research and Innovation. In Horizon 2020, allergy and respiratory diseases do not receive specific attention in terms of funding as they are framed into bigger challenges common to all diseases. Patient perspective is crucial for policy makers, as "research priorities not only produce evidence but also indicate political importance", pointed out Zoltan Massay-Kosubek from the European Public Health Alliance (EPHA). "Patients need expectations and participation", remarked Per-Ake Wecksell, EFA Board Member and allergy and severe asthma patient. Through EFA, he is involved in EU funded projects by participating in advisory groups and providing with the patient perspective for ethics, safety and suitability of new solutions.
Photo: More than 60 patients from 25 European countries participated in the event.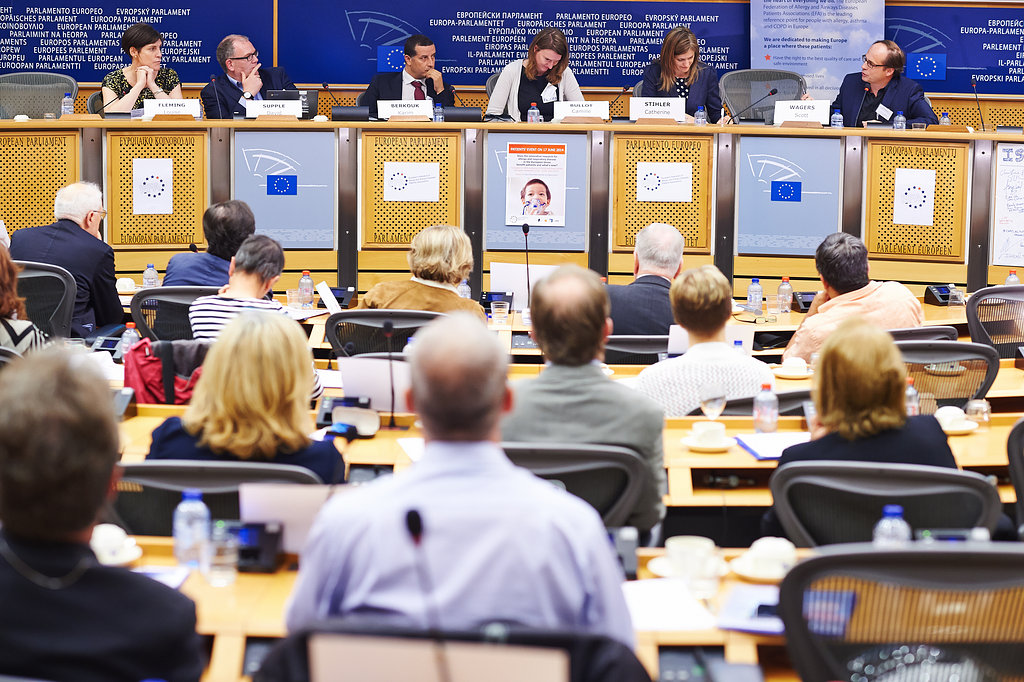 "We are gathering data from patients to create cluster groups and personalise the treatment", explained Louise Fleming from U-BIOPRED, a project that is currently filling the gaps in asthma knowledge. "We need to help people with asthma manage their asthma", stressed Samantha Walker from EARIP, a project seeking to boost innovation in asthma within the European Union. "With all these innovative projects we will redefine the diseases to find better treatments", explained Charles Auffray from MeDALL, an EU project that uses data from more than 40,000 allergic children to improve early diagnosis and prevention of allergy.
Innovative research will help countries benefit from more precise treatments that could reduce certain healthcare costs. "We can soon predict the patient's response to treatments before the intervention", explained Chris Brightling from AirPROM, a technology project that is creating a model of the human lung to virtually anticipate the results of treatments in patients with asthma or COPD.
How to translate those developments into patients' daily life? "Health and social systems have to adapt to the chronic diseases challenge. Strengthening and empowering patients is key in this context", said Michael Hübel, from the European Commission's Health and Consumers Directorate General. In this sense, "patients should be much more involved in influencing the research agenda than they currently are," stressed Camille Bullot from the European Patients' Forum, "there are gaps between patients' priorities and what is actually being studied".
Photo: MEP Catherine Stihler remarks closed the event.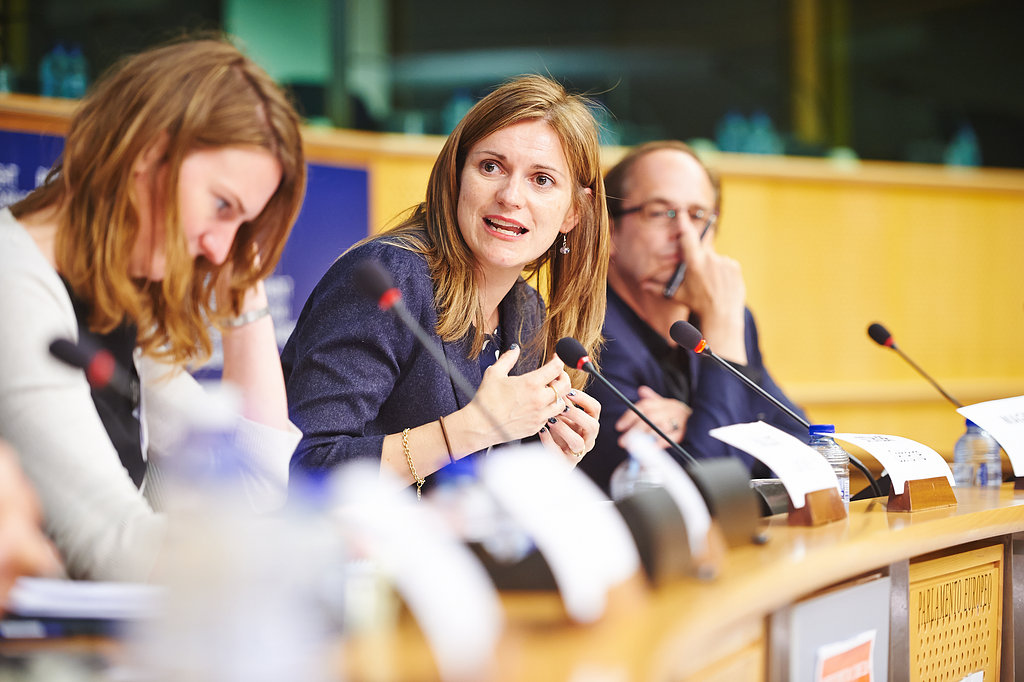 "Patients have the right to be involved in all decisions influencing their health. Their expertise and vision should always be requested and taken into account, as they know better than others what it means to live with the disease and which kind of risks they are willing to take to have benefits in exchange", summarised MEP Catherine Stihler.
More photos of the event are available here.