"Air travel for patients requiring oxygen should be facilitated, not hindered", says EFA President Breda Flood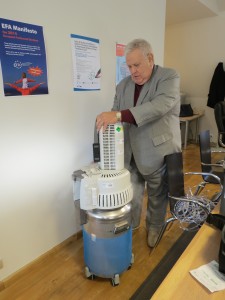 More than 3.5 million people need medical oxygen in Europe and many are advised by their doctors to move to regions with temperate climates that will ease the symptoms of their disease. However the free movement of people around the EU Member States is a nightmare for severe respiratory patients. EFA has documented that air travelling with oxygen is in many cases unaffordable and too complicated for individual patients to try.
Medical oxygen is a common therapy among chronic obstructive pulmonary disease (COPD) (2), severe asthma, cystic fibrosis, pulmonary fibrosis and lung cancer patients that have attained a severe degree of the disease. The current EU regulation (3) allows air travel with medical oxygen equipment but the oxygen itself is currently provided by airlines as a complementary service for passengers. However, in our booklet "Enabling Air Travel with Oxygen" we reported how certain airlines charge up to 7 times more for travelling with medical oxygen, when compared with flight tickets of a standard passenger. Through a multi-language press release, EFA and its members requested the air operators involved to use the form by the International Air Transport Association (IATA) (8) and offer oxygen in-cabin at an affordable cost. General news and specialised media echoed the press release, like the German Aerotelegraph. EFA launched last year a project to pledge for the harmonisation of airlines rules on the use of medical oxygen, an initiative focused on the inequalities existing in relation to the availability of oxygen during travel on commercial airlines. The project worked as a parallel action working with MEP Keith Taylor at the European Parliament, who has requested an own-initiative report (OIR) in the Transportation and Tourism (TRAN) Committee of the European Parliament on "The functioning and application of established rights of people traveling by air."
Photo: COPD Patient Guenter Hirsch from the Austrian Lungenunion, charging his oxygen bottles before air travelling to Vienna.
Meeting with airlines and airport representatives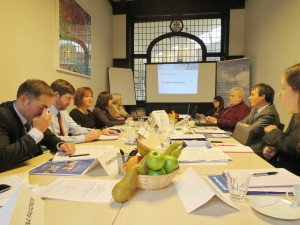 In October, EFA together with representatives from EDF and EURORDIS met with representatives from the European Commission (DG MOVE), Airports Council International (ACI) and different European Airlines to discuss the discriminatory practices that passengers in need of oxygen/assistive equipment face when travelling by plane in Europe.
EFA Director Susanna Palkonen opened the discussion on enabling Air Travel with oxygen/assistive equipment by informing attendants of these issues. In addition, she also addressed the need for proper training of both airline and airport staff that handle either the passenger and/or the oxygen serivce, to avoid unnecessary discomfort and maltreatment of passengers requiring oxygen therapy. EFA, Eurordis and EDF representatives were pleasantly surprised by the International Airlines Group's initiative that already revised its policy on on-board oxygen service and applauds their initiative of ensuring free medical oxygen therapy in the future. The discussion ended with a consensus among participants that transparency on the cost of medical oxygen when travelling is needed, and that communication between airlines and airports should be enhanced. EFA thanks all attendants for participating in this meeting and thus making it possible to discuss this issue.
Photo: From left to right, representatives from AIC, Iberia, Brussels SN, EDF, EFA, EFA, COPD Patient, European Commission, EPF and Eurordis (not captured in the picture).
Members of the European Parliament Catherine Stihler (EPP, United Kingdom), Karin Kadenbach (S&D, Austria) or Nuno Melo (EPP, Portugal) also raised awareness on COPD on November 19th addressing the challenges of the disease in several articles featured in European focused press. Their views and concerns over European citizens health is key and really appreciated by patients. You can read their articles here: The EU must act against the third biggest killer worldwide and Rising number of COPD deaths cause concern.
EFA Members activities at national level
Apart from launching this press release at national level in Austria, Belgium, Bulgaria, Finland, France, Ireland, Portugal, Spain and Switzerland, several EFA Members were active during the World COPD Day. For example, COPD Support Ireland launched the Save Your Breath COPD Awareness Campaign to call for wider availability of COPD testing in general practice and for COPD outreach programmes to be put in place in all acute hospitals. The Spanish Federation of National Respiratory Diseases Organisations (FENAER) celebrated the World COPD Day with an outreach campaign where their membership delivered awareness materials and performed spirometry tests to those passing by their stand.
Photo: COPD Support Ireland team during their campaign activities.