On April 16-17, we celebrated our Annual General Meeting in Lisbon, Portugal, were EFA Members approved our annual 2017 report, accounts, budget and 2018 workplan. We exchanged on members' best practices, the necessary measures to improve the lives of people with allergy, asthma and COPD in Europe and hot topics such as personalised medicine and who actually owns the data patients donate to clinical trials. Many thanks to our hosting Members this year, Respira and APA Associação Portuguesa de Asmáticos!
A new member within the EFA patients' family
EFA's Annual General Assembly approved the French Eczema Association as a new Member, making our family grow to 43 member associations in 25 European countries. The French Eczema Association is a young and dynamic patients' association, created in 2012 to reduce the current indifference around eczema that provokes isolation among patients of all ages. The association informs and raises awareness about eczema and supports patients and their families working along health professionals. This makes the 5th association in France joining us. Welcome!
Check the Association Française de l'Eczema website.
Check EFA Members.
EFA's new Board Member
During this AGM we also welcomed a new Board Member, Mr Ilkka Repo from the Finnish Allergy Skin and Asthma Federation, where he serves as Chief Executive. He is one of our network advocates working to raise the voice of patients with allergy, asthma and skin diseases, defending their interests, supporting them to get the right care and helping them to improve their daily life.
We thanked Mr Carlos Nunes, who has served for the last two years as Secretary of Board. Thank your Carlos for your devotion to EFA during the last two years!
EFA's 2017 Annual report
In Lisbon, EFA's Annual General Asembly adopted the 2017 Annual Report that was launched that very day. You are welcomed to consult it and share it with your peers.
The AGM also approved the 2017 accounts, and adopted the 2018 workplan and budget.
See EFA's 2018 achievements here: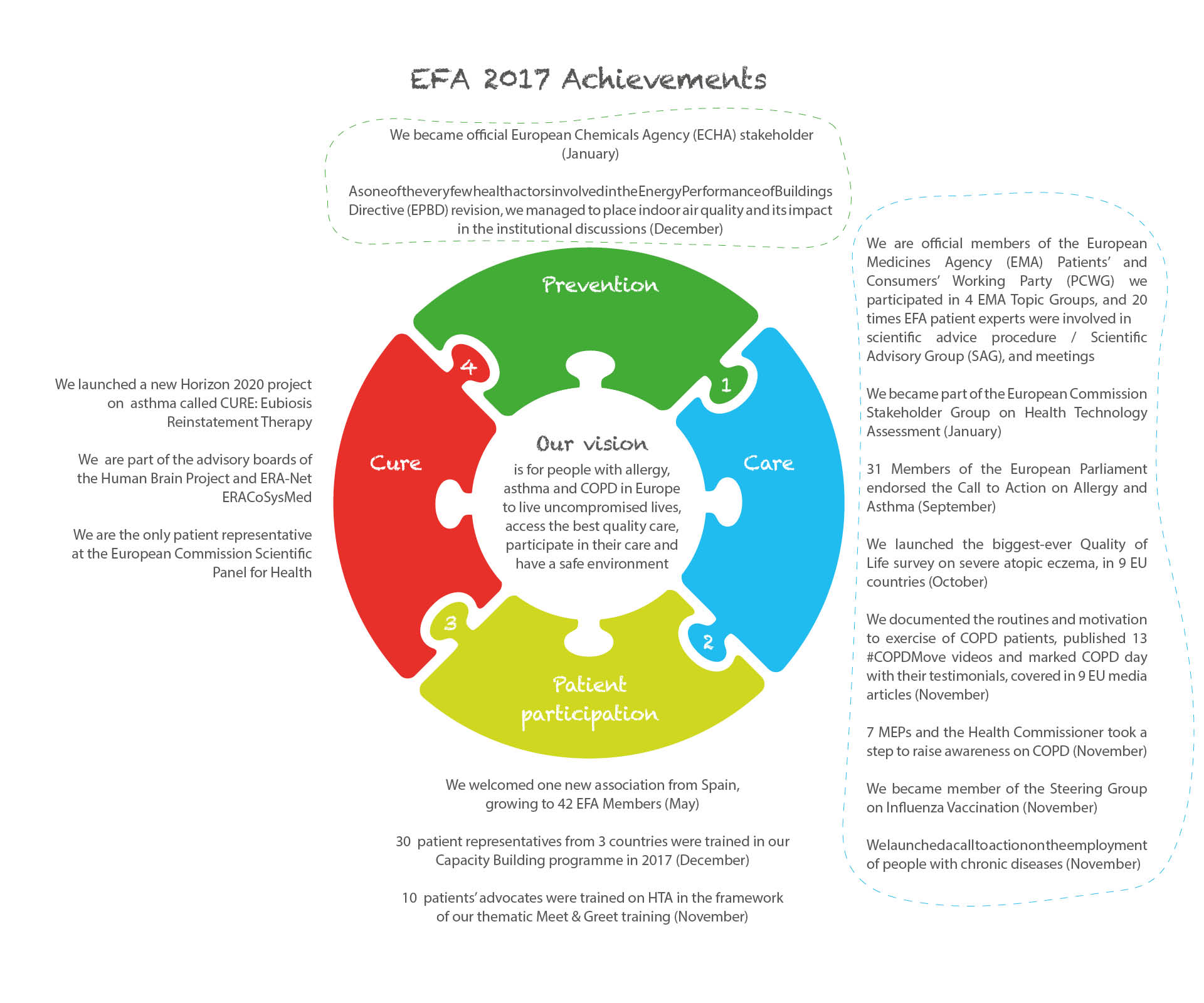 The best activities from our Members in their home countries
On Monday 16th our Members got to exchange their best practices at national and European level. They presented their best actions and projects to improve allergy, asthma, and COPD prevention, care and to promote a healthy lifestyle for the patients and their families.
The Spanish Federation of Allergic and Respiratory diseases Patients' Associations (FENAER) developed an online training (Educational asthma management course) to form expert patients in order to reduce the days under systemic corticosteroid treatment, the health costs, the lost days at school or at work and the hospitalization and emergency rooms visits. This increase of quality of life for children and adult patients is happening through information, education and training in the management of the disease.

Presentation here.

The Spanish Association of people with food and latex Allergy is increasingly reaching out the Spanish regional education authorities to establish food allergy management protocols in primary schools.

More information here.

The Portuguese Association of Asthmatics (APA) promoted and organized activities and meetings, such as the National Annual Forum, to ensure the living conditions to asthmatics and allergic patients. They disclosed and published information about asthma and allergies and represented patients to health authorities and other institutions, interests and rights of asthmatics.

Presentation here.

The Asthma Society of Ireland helped the patients through a Self-Supportive Management program. Allowing them to reduce their hospital admissions, their use of urgent and unscheduled health care and therefore improve the patient's quality of life.

Presentation here.

The Franchophone Lung Society Congress (FFAAIR) has worked to improve the lives of respiratory patients, touching upon physical activity, communication between healthcare professionals and patients with severe illnesses, the problems around air pollution and assistance to help respiratory patients to quit smoking.

More information here.

The Asthma UK is working with the European Asthma Research & Innovation Partnership, to develop research on asthma by pushing Innovative Medicines Initiative (IMI) with their 12 partners. Their primary objective is to publish an IMI call in biomarkers and stratified medicine for severe asthma by the end of 2018. Their secondary objectives are to develop a comprehensive influencing plan by January 2017, and a European Parliament event by 2017.

Presentation here.

Czech Initiative for Asthma (ČIPA) and Czech Civic Association Against Lung Diseases (ČOPN) informed the specialists and the public about news in diagnostics and treatment of asthma, educated the health care workers, published about asthma and allergy and provided pollen information service. Their annual project was 7 A, seminars organised for teachers about allergies in the school (since 2009: 2772 teachers in 94 seminars trained!)

Presentation here.

Asthma-Allergy Denmark informs with the website, its app (which presents information about pollen concentration, ingredients in personal care and detergents, plants, food allergies, eczema and dermatitis) and patients' schools with courses on eczema and asthma lead by nurses (with activities sponsored by the Ministry for Children and Social Affairs). By giving the patients more knowledge about the disease, they get a better understanding of their own disease and thus are able to act appropriately in relation to it.

Presentation here.

The Finnish Allergy and Asthma Federation and the Central Organisation for Skin Patients merged and worked on a common project, The Finnish Allergy Programme. With the directive to endorse health, not allergy, strengthen tolerance, adopt a new attitude to allergy, and avoid allergens only if mandatory as well as recognising and treating severe allergies early. Preventing exacerbations and improving air quality as well as stop smoking, the results were very good with rapid changes for the better the first 5-year results of the program indicate.

Presentation here.

The Norwegian Asthma and Allergy Association launched The Allergy Travel Translator (Matparlør) app, available on the App Store and Google Play in Finnish and English. It allows one to translate and present the sentence to its locator; information and emergencies details are furnished as well.

Presentation here.

German League of Respiratory Diseases' Patients works to inform patients, develop groups in which patients can be active and practice sport with a support system. They are also pushing for research in diagnosis and new treatment, being very aware of the patients' welfare and their psychological health.

Presentation here.

Food Allergy Italia is working on spreading a Veneto based educational program to teach school staff to handle emergencies and problems caused by food allergy from both a practical and psychological point of view (administration of lifesaving medicine and encouraging the involvement of the children in the school community).

Presentation here.

The Austrian Lungs Union has launched eight video modules for patients and carers with a well-known talk show lady, as well as several other initiatives (to discover below) in the objective to inform and raise awareness. Trainings were developed with, among others, half day education workshops for patients and carers and training of health care providers in line with the AGATHE-Program.

Presentation here.

The Polish Federation of Asthma, Allergy and COPD Patients' Associations is very active during the awareness days or weeks regarding asthma and allergies with diagnosis tests. They were also involved in the Dialogue for Health with the Ministry of Health of the Republic of Poland and participated in the project Every breath counts in the National Health Fund. They created with the Federation and the Institute of Patient's rights and Health Education a 12-week motivation program for people who want to stop their smoking addiction and prepare to fight with their disease.

Presentation here.

The Belgian Asthma and Allergy Association raised awareness on asthma, cystic fibrosis and other lung diseases as well as on the importance of good patient care and timely intervention. They are informing on the benefits of a healthy environment and practicing sport and are organising cycling events to promote being active.

Presentation here.

For Respira, the Portuguese Association of Patients with COPD and Chronic Respiratory Diseases, one of their main objective is to contribute to the prevention of Respiratory Diseases. In this optic they go to schools to speak with pupils from 12 to 15 years old to inform on the dangers of smoking illustrated with examples and exercices.

Presentation here.

The Swedish Asthma and Allergy Association launched a three years pilot project, Fralla Outdoor Activity for All, in cooperation with the Swedish Outdoor Association. The aim is to educate and inform people to have more children and youth to take part in an activ sparetime in our available nature and thereby create an engagement for the personal health and our enviroment.

Presentation here.

The French Allergy Prevention Association (AFPRAL) produced a video to illustrate the daily life of a food allergy patient, inform and raise awareness of the seriousness of this invisible disease.

Video here.

The Turkish Patients' Associations for Lung Diseases (AHDADER) created a video, filmed in one of Istanbul's Souk, with an orchestra surprising the crowd and people distributing informative leaflets to inform and raise awareness on pulmonary diseases.

Video here.
EFA-Patients network: specialised working groups
In Lisbon we organised meetings of three working groups.
The Atopic Eczema working group discussed the difficulties patients with Atopic Eczema face at all levels, whether it is from diagnosis, treatment and financial costs, social hurdles, research projects or even to raise awareness. The group also discussed the plans for the EFA Eczema Awareness Day, coming up 14 September!
The COPD working group reviewed the national results of the #COPDMove project, the impact it has had and possible improvements to take into account to have more tangible results towards the patients. Participants discussed about the current limitations of prevention, diagnosis, care, patient empowerment and research for COPD and asthma patients. Possible new projects for EFA and its members or general concerns were also addressed.
The Patient Education working group discussed several ideas for future EFA projects improving health literacy and awareness of certain diseases to get appropriate diagnosis, like rhinitis or to improve the inhaler technique.
During the EFA Network European Parliament Elections Campaign Workshop, EFA_Patients representatives gave input and advice to prepare for the turnover of political representatives at European level. Our network was divided into four groups according to the size of their organisation and discussed priorities for care, prevention, patient participation and research arising from their countries. Work in progress!